27 Oct 2007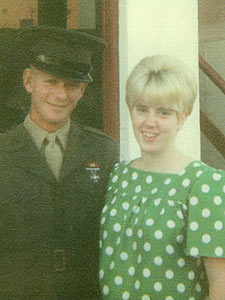 MY JIM WAS A GREAT MAN AND PERSON.
He loved cars and car racing, the drags. We went to the drags quite often. He was a good friend and a great husband. Jim didn't have to go into the Marines but that is what he really wanted to do. He didn't have to go to Vietnam because his brother was already there. But he said no, that it was his duty to go. We were expecting our first baby and we knew it was going to be a boy. He was so excited. The baby was due in March and Jim died on February 29, 1968. He never knew or saw his son. Jim was always happy and we were always together. He would do anything for anyone. I miss him terribly even to this day.
I am sad that my son, James C. McPhearson, Jr never knew his Dad and what a wonderful Dad he would have been.
Thank you for this wonderful site for us to remember our Loved Ones that were cheated out of their life and us as their families to have been cheated with having to live our lives without them.
God Bless each and everyone of them and us.
Thank You
Nan McPhearson
Jim's wife
Remembering my Husband - James Carl McPhearson
gramie1@yahoo.com