November 6, 2014
Thank you very much for replying regarding my brother's picture.
Jimmy attended Lyons Township High School in La Grange Illinois. Before entering the Marines he was employed by Eastman Kodak. He spent a lot of his free time challenging his friends and brother in playing sports like a friendly game of HORSE on the driveway or a very competitive game of wiffel ball in the backyard. If he wasn't playing sports he could be found listening to music and playing the drums in his bedroom.
Both of our parents are still alive. Our father James, a veteran of WWII, is 95 years and our mother Stella is 88. There are no other siblings.
He was stationed up by the DMZ at firebase A-2 (Gio Linh) which was a South Vietnamese outpost. He was there for combat support and it wasn't uncommon for them to have mortar barrages 5-20 times a day and night. I've been told, "It was hell at times" and "...the Combat base was nick named the Alamo". On September 22, 1969 at about 1700 hours he was positioned on top of their bunker when a round from an 82mm mortar was almost a direct hit on top of the bunker. On Oct 24, 1969 he passed away. He was given a full military funeral and was laid to rest on Nov 9, 1969.
Another interesting fact is that after 43 years of looking for someone who was with my brother, through the website vvfm.org, I have been able to make contact with two very special Marines that were with my brother in Vietnam. The first Marine is Zee; he was the Marine my brother replaced at A2 Gio Linh and the other, Troy; he was actually with my brother on the day he was wounded and actually put him on the med-evac chopper.
It is very apparent to me that my brother was very close to both of them. I will also tell you that both of these Marines have helped bring closure for my parents. There were so many unanswered questions. Zee and Troy were able to fill those holes that allowed my parents to gain the closure they were looking for, for so many years.
After 45 years, both of them have gone above and beyond to ensure my brother is not forgotten. I can tell you the brotherhood the Marines have is like no other and I am truly honored to have met both of them.
On July 9, 1990 my youngest daughter was born and we named her Jamie, in honor of her uncle. While both of my daughters never met my brother they are very familiar with him and the type of person he was. Even though we lost him in Vietnam, my wife and I have made a point of it to make sure he has been a part of our home and my kid's lives.
We have his medals and pictures of him hanging in our home, I've worn a KIA bracelet in his honor for years, we have several etchings of his name on the Vietnam Wall and we often talk about him on his birthday. When we go to my parent's house they see an encased American Flag that was given to them in 2013 from Troy, the Marine that put him on the chopper.
Troy requested US Congressman Bob Barr of Georgia to have a flag flown over the Capitol in Washington DC in my brothers honor. That flag was flown on Feb 26, 1996. When Troy and I met in 2013 he told me he wanted my parents to have that flag. That flag sits right next to a picture of the my brother's name on the Vietnam wall and has my brothers reflection in it.
That amazing picture was taken and given to us by Zee, the other Marine who was with my brother in Nam. When I gave those things to my parents they could not believe, that someone he was with, would take the time and trouble to honor him many years after his death.
Their acts speak loud and clear about the Marine Brotherhood and always being faithful! Definitely two unbelievable Marines!
Semper Fi
I've attached a couple more photos if you want to use them.
- - Scott McPhillips, Brother
---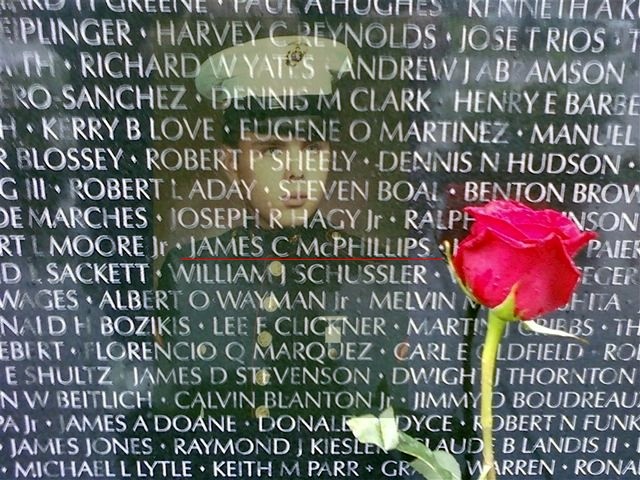 Above, 'amazing' photo by Zee.

Below, 'The Hill', where Jimmy was stationed