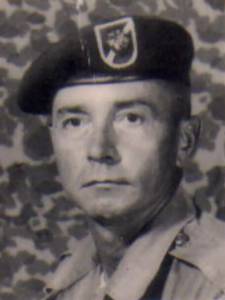 SFC CECIL A. MEARES
Funeral services for SFC Cecil A. Meares, who was killed in Vietnam September 23, will be conducted at 3 p.m. Tuesday at the East Lumberton Baptist Curch with full military honors. Burial will be in Hollywood Cemetery.

Surviving are his wife, Mrs. Freddie Meares of Fayetteville; two sons Carris of Fayetteville and Donal of West Palm Beach, Fla.; also two daughters Dorothy and Louise of Fayetteville; his parents, Mr. and Mrs. L. A. Meares of Central Islip, N. Y.; one brother Billie, N. Y.; and two sisters, Mrs. Charlie Paul of Sayville, N. Y., Mrs. Howard Martin of Lumberton.

From the Robesonian, Lumberton, NC
October 2, 1967
10 Apr 2003
My father served in the Korean and Vietnam wars.
I will always be proud that you were my Dad and we miss you so much. I wish that I had more time with you, but you are always in my heart.
I would love to hear from anyone who knew my Dad.
Dorothy Meares Phillips


---

14 Jun 2006

Another year has passed without you and I miss you more as time goes by. I hope some one out there who remembers you will contact me and share their memories of you with me. I miss and love you, Dad.

From his daughter,
Dorothy Meares Phillips


---

24 Jan 2007

Dad, time passes on and you are still with me in my heart. I had a call from a wonderful person who told me a little about you. So now I see a little more of you, Dad, in my heart. You will always be with me.

It was so great to hear just one memory of you ... I hope if anyone remembers you they will contact me. Just a little memory of you helps me so much.

Dorothy Meares Phillips


---

02 Aug 2007

I still miss my Dad very much and still hold out hope for people to contact me and tell me anything you remember about him. my e-mail was changed so please contact me at 2phillips@embarqmail.com

I was contacted by a lady who knew what she had been told about my Dad ... I so enjoyed hearing it and shared it with my brothers ad sister.


---

22 Dec 2007

Another holiday is going by I miss you so very much. Please ... if you remember anything about my Dad please contact me.

Dorothy Meares Phillips


---

04 Mar 2008

Still missing you

Dorothy


---

From his daughter,
Dorothy Meares Phillips
1288 Old Brick Mill Road, Roseboro, N C
2phillips@embarqmail.com