Remembering
John Mitchell Michalski
Specialist Four, Army of the United States
A CO, 4TH BN, 9TH INF RGT, 25 INF DIV
From Hazel Park, MI
10 January 1946 - 11 May 1968
John Mitchell Michalski is on the Vietnam Veterans Memorial, Panel 58E Line 024.
23 Mar 2004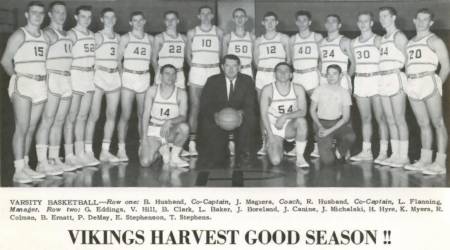 John Mitchell Michalski wears number 10 in the team picture.
John was a good student and athlete, he was a good son and had a bright future ahead of him. John was the kind of guy you hoped your daughter would end up married to. We played on the basketball team together at Lacy Junior High in Hazel Park, Michigan. We were both 6 feet tall in 8th grade but John was a much better student than me. He went on to co-captain the Hazel Park High School varsity team and get a scholarship to college and I quit school and joined the Marine Corps. I served in Vietnam in October 66 to October 67, and John served from October 67 until his death on 11 May 68. John would have been somebody and I think of him often.
The point-of-contact for this memorial is
a friend,
Richard Chumbler

chumblri@ole.net

The database page for John Mitchell Michalski

www.VirtualWall.org
To alpha index M
MI State Index . Panel 58E
9TH INF RGT Index
Contact Us

27 Mar 2004
Last updated 08/10/2009