On 29 November 1966, Gannon Clark Milby entered on active duty at US Army Reception Station, Fort Jackson, South Carolina. By 7 December, he had completed in-processing and movement to Fort Gordan Georgia. He began Basic Combat Training with A Company, 6th Battalion 2nd Regiment, US Army Training Center, Fort Gordon.
Upon completion of Basic on 7 February, he was reassigned and moved to A Company, 2nd Battalion, 1st Brigade, Fort Huachuca arriving 18 Feb 1967 where he was a student. While there, he completed MOS Training for 70A10 (Basic Army Administration) on 18 March and then 71B20 training on 14 April 1967 when he was assigned to Vietnam.
He arrived in Vietnam as a Specialist Five and as of 8 May 1967 was assigned to a Company Clerk position in MOS 71H20 with Headquarters and Headquarters Company, 2nd Battalion, 5th Cavalry.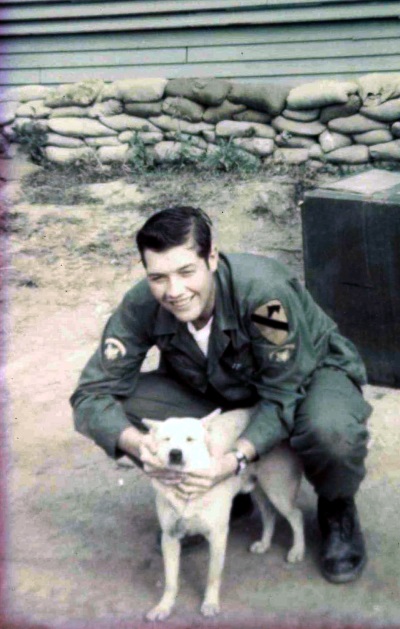 Then SP5 GANNON CLARK MILBY in base camp
In the next 32 days (10 June 1967), he fell ill, was evacuated to the United States, and died at Walter Reed Army Hospital from cardiac arrythmia. It was so sudden, they did not even have time to record his evacuation through medical channels.
In the short time that SP5 Gannon was in Vietnam, he qualified for the award of the Air Medal. Upon his death, SP5 Milby was posthumously promoted to Staff Sergeant.
At the time, he was suvived by his parents, Mrs and Mr. Gannon C Milby, Sr, of Cordova, Maryland. He was laid to rest in Woodlawn Memorial Park Cemetery, Easton, Maryland.
---
Obituary for Gannon C Milby, Senior provides family history for SSG Milby.
Photo of markers below shows Milby Sr served in WWII in Army Air Force as a Sergeant (SGT).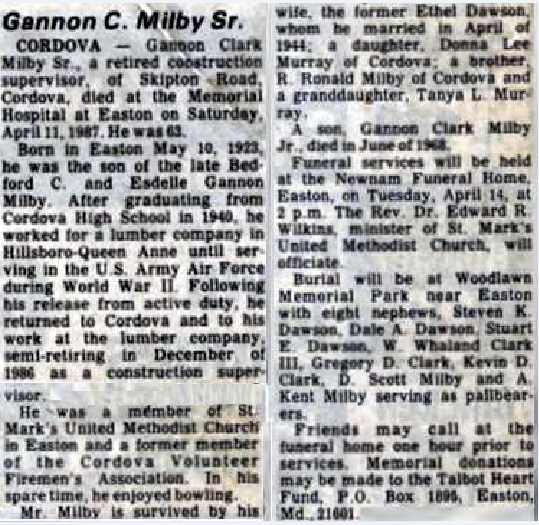 ---
- - From local area papers and funeral home in 2005 - -
Ethel D. Milby of Cordova died Friday, Dec. 2, 2005, at William Hill Manor. She was 79.
Born Dec. 26, 1925, in Cordova, she was the daughter of the late Earle and Elizabeth Whitby Dawson Sr. Following graduation from Cordova High School in 1943, she married Gannon Clark Milby Sr. on April 15, 1944. Mr. Milby died April 11, 1987.
She was a member of St. Mark's United Methodist Church, Easton. She enjoyed cooking for her family, spending time with all her pets, sewing and needlework.
Mrs. Milby was survived by one daughter, Donna Lee Murray; one brother, Earle Dawson Jr.; and one granddaughter, Tanya Lee Murray.
In addition to her husband, she was preceded in death by a son, Gannon Clark Milby Jr., who died June 10, 1968.
Funeral services were held at 2:30 p.m. Thursday, Dec. 8 at the Fellows, Helfenbein and Newnam Funeral Home P. A., Easton, where friends called one hour before the service. Burial was at the Woodlawn Memorial Park, Easton along with her husband and son.
SSG Milby left, Milby Sr in middle, and Ethel L on right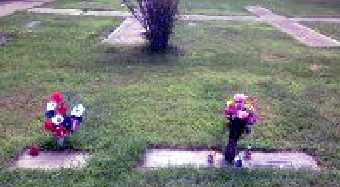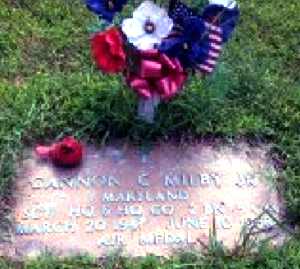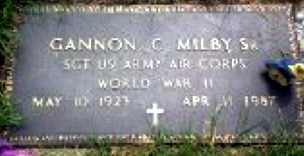 ---
In 2014, The Defense Data Manpower Center notified The Vietnam Veterans Memorial Fund that Staff Sergeant Gannon Clark Milby's name may be added to the Wall. His name was added in May 2015.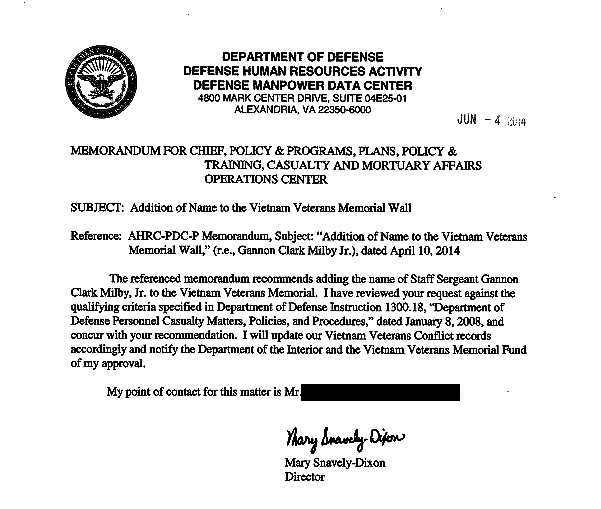 SSG GANNON CLARK MILBY Jr Wall Approval
It took a lot of effort to get SSG Milby's name added to the Wall. In the Star Democrat in Easton Maryland, on May 24, 2015, Bethany Ziegler (bziegler@stardem.com) published the article below about the family's effort under the headings of:
Getting his place on the wall

Forty-seven years after his death, one local man's name is finally inscribed on Vietnam Memorial
CORDOVA - There are 58,307 names inscribed on the black, granite walls of the Vietnam Veterans Memorial in Washington, D.C. One of the most recent, added on May 10 of this year, was that of Talbot County native Gannon Clark Milby Jr.
Milby was 21 when he died after being sent to Walter Reed for treatment of an illness contracted in Vietnam. He eventually succumbed to the illness on June 10, 1968. Because his death occurred in the United States and not overseas, he was initially ineligible to be part of the memorial. For 47 years, his family and friends have been trying to change that.
"My aunt - she's passed away now - she fought and fought and fought for years to get his name put on the memorial," said Laura Diem of Cordova, Milby's cousin. "To me, it's closure."
Milby, who his family called GC, wasn't alone. There were six other names added to the wall this year, and five existing names changed from missing in action to killed in action. Changes like these are made each year as the U.S. Department of Defense gets requests for more additions or as remains are returned or accounted for, according to Shalay Mangin at the Vietnam Veterans Memorial Fund, which finances the additions to the wall.
As the years have passed, criteria for inclusion on the wall has expanded to include any wounds suffered in Vietnam from which the service member eventually perished. Some causes of death are still outside the criteria, including post-traumatic stress disorder related illnesses and events, exposure to Agent Orange and similar chemicals, diabetes, cancer and heart attack. The memorial fund, however, does have an In Memory program to honor those who have died as a result of the war but do not meet the requirements for inclusion on the wall.
"There are so many names, but when it's a family member, it's different," Diem said. "They did what their country asked of them, and if it weren't for those people back then, who knows where we'd be now. They were there, and they made the best of the situation. And there's a lot that didn't come home."
Milby and his fellow additions were honored at a ceremony on Mother's Day, a tradition put on by the memorial fund and the National Park Service. Diem attended the ceremony with her parents - Mary and Earle Dawson, Milby's aunt and uncle - and brother - Dale Dawson, Milby's cousin. They called it a nice ceremony, with family members asked to get up and present their honoree's name.
"We were very proud to do it," Mary Dawson said. "He gave his life for the country, and it's an honor for the family that he is recognized."
Though Diem and Dale Dawson were young when their cousin died, both said they lived with reminders of him and his service. Dale has the new Chevrolet Chevelle Milby bought just before heading to Vietnam. He said his cousin told his aunt that if anything ever happened to him, he wanted Dale to have the car.
"I just remember the loss my aunt had," Dale said. "She told her husband when (Milby) got on the plane that she had a feeling that this was it."
Diem said she grew up with constant reminders that her cousin never got to come home. She still has a picture of her brother and her that was sent to her cousin while he was in Vietnam that later was returned to the family with his belongings.
"I can remember sitting on my mother's lap, 6 years old, and her saying, 'GC's never going to come home again,'" Diem said. "At that age, you never really get it."
For Diem, the ceremony to honor Milby was her first chance to see the Vietnam Veterans Memorial in person. She called it a moving, emotional experience.
"We got to see his name. That was something that kind of brings tears to your eyes," Diem said. "He deserved to be there with the people he served with."
Mary Dawson echoed her daughter's sentiments, calling it an honor that was "long past due."
"Anybody that is serving or has served or whatever, I think that the country and everybody should praise them for what they do," Mary said. "It is a thing that is real deep in your stomach that these people did something special, especially when they lose their life."

---
- - The Virtual Wall, June 14, 2016