Robert Edwin Miller
Staff Sergeant
3RD PLT, C CO, 1ST BN, 8TH CAVALRY, 1 CAV DIV
Army of the United States
18 February 1947 - 31 January 1969
Ingleside, Illinois
Panel 33W Line 027
The database page for Robert Edwin Miller
29 Nov 2005

This is written to honor SSgt Bob Miller of Charlie Co 1/8 Air Cav. He was my platoon sergeant and was a good leader, the type of person who tried to pass his knowledge on to the new guys. The kind of man that was there for you - if you were hurt he would be the first to try to help. The things Bob taught me brought me home safely. The day Bob died we walking down a trail on a new mission when all of a sudden there was a loud explosion behind us. One of the guys in the 3rd platoon stepped on a land mine. The medic was up in front of me and Bob. When Doc came running down the trail to get to him Bob and I stepped off the trail to the right - another explosion went off, this time it was Bob. One second he was alive, the next he was gone - it was so fast. I have never forgotten that day. Came to find out the whole trail we were on was nothing but booby traps, it was so nerve-racking trying to make our way without anyone else getting hurt. I walked point from then on out that afternoon.

I hate that I can't remember the other guy's name who got hurt. He lived. I helped Doc with him. He was put on a chopper and sent back to the rear for treatment. I just wanted to say thanks to my friend Bob Miller for all that he taught me and how to be a good squad leader. I feel because of his help when I was new in country that is why I am home today.

Thanks, Bob, I will never forget you. I know you are in God's hand now. It was a privilege to have served with you.

Sgt Jerry Blevins
E-mail address is not available.
A Note from The Virtual Wall
The following entries are taken from the 1st Bn, 8th Cavalry's Operations Log for 31 Jan 1969: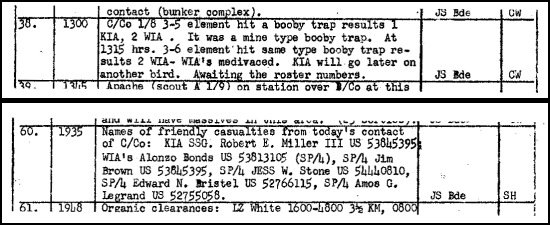 Mr. Blevins' memory serves him well; none of the five men wounded by the booby traps died. There's a small error in the report; in entry #60 SSGT Miller is incorrectly given SP4 Jim Brown's service number.
---
With all respect
Jim Schueckler, former CW2, US Army
Ken Davis, Commander, United States Navy (Ret)
Memorial first published on 29 Nov 2005
Last updated 08/10/2009