The 1st and 5th Battalions of the 46th Infantry were ORGANIC/ASSIGNED to the 23rd Infantry Division but ATTACHED/OPCON to the 196th and 198th Brigades, respectively, during the period 15 February 1969 to 1 November 1971, therefore, the brigade shoulder patches do not show in medals box above. For most of the time the 46th Infantry was in Vietnam, 1st Battalion was OPCON to 196th and 5th Battalion was OPCON to 198th. Read 46th Infantry Vietnam assignment history here.

196th Infantry Brigade 198th Infantry Brigade
---
---
On 8/20/2012, Craig Johnson wrote:
"My name is Craig Johnson. I was Terry's squad leader for the time I was in country. He arrived before me by a few days and was there two days after I left the field. He was one hell of a troop, a wonderful man. I loved him."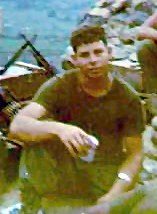 "Terry was killed at Hiep Duc. Our company was helicopter dropped on the base of an NVA Regiment. I was in the hospital two days before. Suddenly, my entire platoon joined me. Terry wasn't there among those who arrived at the hospital" Craig wrote.
Continuing the story, "He and several others charged an NVA scrimmage line. Terry took two in the chest heart high."
"Those five or six days were very difficult. My small platoon, there were perhaps 16 of us, received four Silver Stars. Terry was taken home to Portland-Salem area by Dave Hall (Spc 4)."
"I understand that Terry's family was pretty upset."