A Note from The Virtual Wall
The material placed by Mr. Acton above tells a part of the story - but not all.
Marine Air Group 13 deployed to Chu Lai in Sep 1966 and immediately took command of two F-4 squadrons from MAG-11, adding a third in October 1966. The Air Group's purpose was to provide command and support units for the flying squadrons, and of course it had its own officers and men. One of the support units was Marine Air Base Squadron 13 (MABS-13), commanded by Major David W. Morrill. Major Merrill was an aviator, and the Group's aviators routinely flew missions with the flying squadrons.
On 18 March 1967 Major Morrill was assigned to fly a ground support mission with VMFA-314; his Radar Intercept Officer was a VMFA-314 officer, 2ndLt Maxim C. Parker. The mission, flown in F-4B BuNo 152271, was as one in a flight of two Phantoms operating in Quang Tri Province. Morrill's Phantom was observed to pull off target on his fourth pass and then visual contact was lost. The pilot of the lead aircraft observed a ground explosion about one and a half miles from the target. No parachutes were seen. According to their respective commands' Command Chronologies for March 1967 both were classed as Missing in Action - a status not reflected in the curent DoD casualty files, which show Killed in Action/Body not Recovered. Major Morrill received a posthumous promotion to Lieutenant Colonel.
The wreckage, identifiable by its tail and bureau numbers, was located in August 1967 by Marine Corps engineers building a road near Dong Ha. A search of the crash site turned up 2ndLt Parker's dog tags and two sets of human remains, which were later identified as ground troops killed in earlier fighting.
A 1993 investigation of the crash site located Major Morrill's wedding band which, after identification, was returned to his family. Human remains found at the site were repatriated on 09 June 1993, but identification of the remains was not announced until 09 May 2001. At that time DoD announced that remains from both Morrill and Parker had been positively identified using mitochondrial DNA techniques.
LtCol David Morrill's remains were buried in Site 7909, Section 60, Arlington National Cemetery, Arlington, Virginia. While there is a marker for the two men at Arlington and although the National Cemetery gravesite locator reports 2ndLt Parker is buried in Site 7910, Section 60, Arlington, there is a second entry stating that he is buried in Site 94, Section MA, Fort Rosecrans National Cemetery, San Diego, California. 2ndLt Parker was from Rolling Hills, California.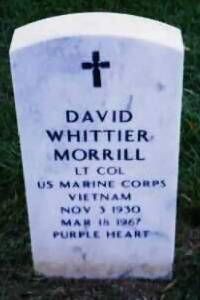 Arlington Cemetery marker for Morrill and Parker, left;
Morrill's gravestone, right.
---

As noted by Mr. Acton, Merwin Lamphrey Morrill was LtCol Morrill's younger brother. He was graduated from the US Military Academy at West Point with the Class of 1958, took his commission in the Air Force, and completed flight training.

Captain Morrill was assigned to the 18th Tactical Fighter Wing at Kadena Air Base on Okinawa, but in August 1967 he was on temporary duty with the 354th Tac Ftr Sqdn, 355th TFW, at Takhli RTAFB, Thailand. On 21 August 1967 he was flying F-105D tail number 59-1720 as part of a strike against the Yen Vinh railway marshalling yards near Hanoi. His wingman, 1stLt Lynn K. Powell in F-105D 60-0437, was hit by AAA as he rolled in on target; Powell's aircraft was observed to crash without any apparent ejection attempt. Captain Morrill's aircraft was hit as the strike came off target and crashed about 7 miles south of Hanoi. As with Powell, there were no signs that Morrill had ejected - but he might have, and he was classed as Missing in Action.

Merwin Morrill was carried as MIA until 03 Apr 1978, when a Posthumous Finding of Death was approved by the Secretary of the Air Force. Morrill was twice promoted while MIA, first to Major and finally to Lieutenant Colonel.

On 03 June 1983 remains purporting to be those of LtCol Merwin Morrell and Capt Powell were repatriated, and on 27 June 1983 the DoD announced that the remains had proven to be those of the two men. LtCol Merwin Morrill is buried in the USMA Cemetery at West Point.