Leslie Don Moses
Specialist Four
71ST AHC, 145TH AVN BN, 12TH AVN GRP, 1 AVN BDE
Army of the United States
25 April 1946 - 04 November 1966
Wetumka, Oklahoma
Panel 12E Line 023
The database page for Leslie Don Moses
20 Dec 2004

Leslie is buried near my family plot in the Wetumka, Oklahoma, cemetery. He was killed in action while operating as a Door Gunner during a Medical Evacuation mission. When I visit my family's grave site I always stop by and pay my respects to Leslie. May God Cradle You In His Loving Arms.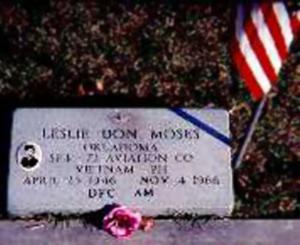 A Note from The Virtual Wall
On 04 Nov 1966, UH-1D tail number 64-13715 was approaching touchdown on a medevac mission when it was hit by automatic weapons fire. Although the Huey was not shot down, one crewman - SP4 Moses - was killed by the incoming gunfire.
He is remembered by his comrades-in-arms of the
71st Assault Helicopter Company
on their
Memorial to Leslie Moses

---
With all respect
Jim Schueckler, former CW2, US Army
Ken Davis, Commander, United States Navy (Ret)
Last updated 08/10/2009