17 Feb 2007

The alumni newsletter announcement from Deep Springs College in the summer of 1970 was brief but profoundly sad to all of us who knew Dave Mossner:
"Word has just been received that Dave Mossner, Deep Springs '63, was killed in Vietnam on June 1. The feeling of shock and loss in all those who knew him is inescapable. He was one of our best."
Later that summer, SP-4 Roy Saeman, a member of Dave's squad, sent a letter to Dave's parents that included this heartfelt tribute:
"You should always be proud of him because we were - every day. He was a person who loved life and almost everything about it. He wasn't out to hurt anyone - only seeking a better world for everyone."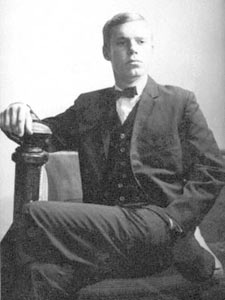 I took the above photograph of Dave while we were fellow students at Deep Springs College in the 1960s - he wanted a photo for university transfer applications that matched a formal portrait of Lucien L. Nunn, the founder of Deep Springs, a twenty-six student college on a high-desert California cattle ranch. Dave had a great sense of humor and a great and loving soul. All of us who knew Dave Mossner will always miss him.
From a college classmate,
Ron Alexander
ronalex@schat.com