Hermando Sanchez Moya
Sergeant
B CO, 1ST BN, 5TH INF RGT, 25 INF DIV
Army of the United States
06 November 1937 - 07 May 1966
Woodsboro, Texas
Panel 07E Line 039
The database page for Hermando Sanchez Moya
4 Aug 2004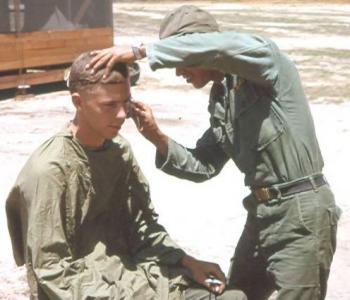 Photo courtesy of Robert Whaley
Hermando (right) cuts Robert Whaley's hair.
REMEMBERED
by his comrades in the



5th Infantry
16 Nov 2004

You were one of "my guys". As your platoon leader I did my best to bring everyone home but I was not successful. I mourned your loss then and I do to this day. I carry your name in my wallet along with the names of your brothers in arms lost from my platoon. Know that those of us who served with you will not forget.

From his Platoon Leader,
Robert Whaley
r.e.whaley@att.net

A Note from The Virtual Wall
On 07 May 1966, Bravo 1/5 and an attached tank platoon conducted a one-day recon operation in the southern Boi Loi Woods. At noontime B/1/5 engaged an entrenched VC force, resulting in 12 men with wounds requiring evacuation and one man killed by enemy fire - Sergeant Hermando S. Moya.
---
With all respect
Jim Schueckler, former CW2, US Army
Ken Davis, Commander, United States Navy (Ret)
Last updated 08/10/2009