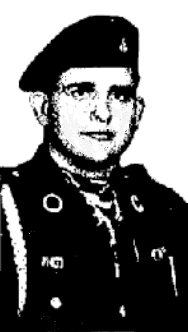 The Galveston Daily News on March 05, 1968 posted the notice of the death of CPL Najar along with the above photo. It read in part: Two Galveston Army men have been killed in Vietnam as a result of hostile action the Defense Department announced Monday.

CPL Alfred S. (Butch) Najar, Jr son of Alfred S Najar Sr of 320 Tuna St., was killed in action Saturday Feb 24th. The family was advised of the deaths by an Army representative in person and later received telegrams from headquarters. CPL Najar, a member of the 101st Airborne Division Special Forces, wrote in a letter received by his father last Wednesday that he was "In the perimeter of Hue". DoD records show that CPL Najar died as a result of wound received when base camp came under hostile mortar attack. He was admitted to Naval Support Activity Hospital on the 24th but expired shortly thereafter. (When American involvement reached its peak in 1968, the 750-bed Naval Support Activity Hospital Danang (NSAH) was in full operation, and two hospital ships-the USS Repose and the USS Sanctuary-cruised offshore, often only a 30-minute medevac flight from the battlefield.)

"Butch" was born in Galveston April 20 1948, and was a 1966 graduate of Ball High School, Galveston. Young Najar enlisted in Army in the summer of 1966 and left in September 1967 on his Vietnam assignment.

Funeral arrangements Najar were done by the Broadway Funeral Home. CPL Najar was survived by his parents, Alfred S. Najar, Sr Tuna Street, Galveston; one sister, Mrs Rene (Charles E) Mattingly of Galveston, and two grandmothers, paternal - Mrs. M Najar of Galveston and maternal - Mrs B. A. Nickerson of Houston. Najar was a member of Moody Memorial First Methodist Church.

On Wednesday, May 29, 1968, a plaque inscribed to CPL Alfred S. (Butch) Najar and the American flag that draped his casket after he was killed in action in Vietnam on February 24, 1968 were presented to Stephen K Austin Junior High School at school assembly. Cpl Najar graduated from Stephen F. Austin in 1963. He had a "B" average and played football on the varsity team with distinction, according to principal Stanley S. Smith. The PTA at the school had requested the flag for them in memory of CPL Najar on holidays and at special events. The plaque bearing Najar's name was engraved and presented to Smith by the president of the PTA.

Butch was buried on Monday, March 11, 1968 at Hayes Grace Memorial Park, Hitchcock, Texas. His marker is shown below
CPL Najar's father, Alfred S Najar, Sr passed away on March 18, 1994 in Gavleston. He was born February 11, 1917. He too served in the Armed Forces and World War II and Korea. He was survived by two daughters, Renee Mattingly and Joanne Miller Healy.

On January 28, 2008, Renee Mattingly, 65, passed away. , the only daughter of Alfred S. Najar, Sr. and Gladys Najar. She was preceded in death by her mother and father, her brother Butch Najar who was killed in Vietnam in 1968 while in the service for his country, and her husband of thirty-two years Charles E. Mattingly, Sr. She was survived by two sons and a daughter - CPL Najar's nephews and niece.
-- The Virtual Wall