09 Jan 2003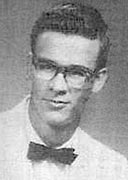 I knew John from junior high school through high school. We went to different high schools in the oil field town of Odessa, Texas. John was at Permian and I at Odessa High School. I used to run into John and he was always upbeat.
I didn't know about John's death for a long time after I came out of the service. John arrived in Vietnam two weeks before I did during the Tet Offensive of 1968. He was killed in May of 1968. I had been medevaced out of country in March and I didn't get back into country until mid-April.
John was one of six members of his 1965 graduating class at Permian High School, Odessa, Texas to be killed in Vietnam. They were Marvin Rex Young, U.S. Army Medal of Honor Recipient; Dale Farris, U.S. Air Force; Mike Gladden, U.S. Army Airborne; Randall Jarrell, USMC; and Bobby L. Eaton, USMC.
From a friend and home-town acquaintance,
Billy M. Brown


---

05 Aug 2006

John is remembered on the Permian Basin Vietnam Veterans' Memorial located at the airport in Midland, Texas.

John's family was presented the Bronze Star for valor and the Republic of Vietnam Military Merit Medal after his death.

From a friend and PBVVM representative,
Billy M. Brown
4015 Melody Lane, Odessa, Texas 79762
bmbrown@grandecom.net