Paul Gregory Olenzuk
Private First Class
A CO, 1ST BN, 502ND INF RGT, 101 ABN DIV
Army of the United States
02 May 1946 - 10 August 1968
Detroit, Michigan
Panel 49W Line 043
The database page for Paul Gregory Olenzuk
22 Dec 2001

Ken and Paul Olenzuk are brothers, natives of Detroit.


---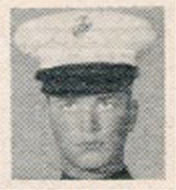 Lance Corporal Ken Olenzuk
died on 25 December 1967
of wounds received earlier.


---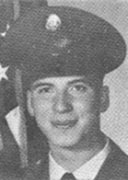 Private First Class Paul Olenzuk
was killed in action on 10 August 1968.


---
"Not for fame or reward,
not for place or for rank,
but in simple obedience to duty,
as they understood it."
Confederate Memorial
Arlington National Cemetery
A memorial from a friend.
E-mail address is not available.
A Note from The Virtual Wall
Five men from the 1st Battalion, 502nd Infantry, died in an action in Thua Thien Province on 10 August 1968:
SP4 George E. Valker, Minot, ND, A Company
SP4 Raymond G. Kriskovich, Butte, MT, B Company
SP4 Michael B. Snyder, Ferguson, MO, E Company
PFC Paul G. Olenzuk, Detroit, MI, A Company
PFC Albert R. Haynes, Philadelphia, PA, E Company
Eight months earlier, Lance Corporal Kenny Olenzuk had been fatally wounded in Thua Thien Province.
This memorial used to stand in Utica, Michigan. It carries the inscription
TO THE MEN AND WOMEN
IN THIS COMMUNITY WHO
GAVE UP THEIR LIVES THAT
WE MIGHT REMAIN A FREE NATION
The memorial lists the names of 17 men who died in Vietnam. Paul Olenzuk's name is on the memorial; Kenny Olenzuk's name is not.
Photo courtesy of Mark Hodgins.
---
With all respect
Jim Schueckler, former CW2, US Army
Ken Davis, Commander, United States Navy (Ret)
Last updated 08/10/2009