Dennis Alan Ormond
Specialist Four
B CO, 101ST AVN BN, 101 ABN DIV
Army of the United States
24 August 1949 - 09 March 1969
Downers Grove, IL
Panel 30W Line 094
The database page for Dennis Alan Ormond
16 Jan 2000

My name is Frank Tresenrider and I served with B Company, 101st Aviation Bn in Vietnam. I returned home in March of 1969. On March 9, 1969 the company lost a helicopter and the 4 crewmen on board. I was the crew chief and door gunner on that same helicopter the week before it crashed. Feel free to e-mail me at any time.

Frank Tresenrider
Kingsmen RVN 68-69
huey227@verizon.net

Kingsmen lost on 9 March 1969:
1LT D A O'Neill
CWO D A Poley
SP5 C P Girard
SP4 D A Ormond

---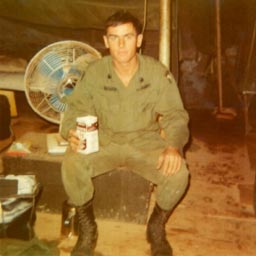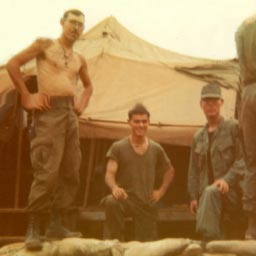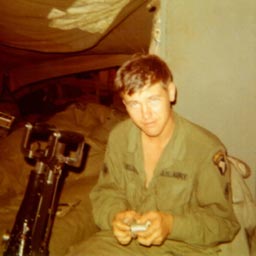 Photos courtesy of
Gary Rotolo
Notes from The Virtual Wall
On 09 March 1969, UH-1H tail number 66-17121 of B Company, 101st Aviation Battalion, was conducting a resupply mission into the USMC Fire Support Base Winchester, located atop a ridgeline west of FSB Russell near the Demilitarized Zone. According to the Vietnam Helicopter Pilots' Association database, 66-17121 was crewed by
CW2 David Allan Poley, pilot;
1LT Daniel John O'Neill, copilot;
SP5 Charles Pierre Girard, crew chief;
SP4 Dennis Alan Ormond, gunner; and
an unidentified Marine acting as "bellyman".
The VHPA database contains two accounts of what happened. The first is from WO1 Kenneth D. Roach, who was flying as wingman to 66-17121:
"While attempting to resupply a Marine FSB (Winchester) I observed Dave enter the clouds crossing a ridgeline. I advised Dave that I could not follow him; he radioed to wait for him. That was the last call. Three days later I found the wreckage."
and the second is from WO1 Edward C. Ragan, also of B/101st Avn Bn:
"At the time the ship went down they were trying to get badly needed supplies to a radio relay station which was their only contact with the [LRRP] team in the field. The relay station was just South of the DMZ on top of a mountain. The mountain top was closed in by the clouds and Dave and Dan had made several attempts to land without success. My understanding is that they were trying to hover up the side of the mountain to reach the station when the radio crew heard a large amount of gun fire from the bad guys answered from the helicopter, then an explosion. No one knows for sure exactly how the ship went down only that it took several days to find it in the jungle. ...

"There were five damn good men on that helicopter each of them there because they wanted to be and because the other four men trusted them with their lives. ... CW2 Poley relieved me as AC [aircraft commander] late the afternoon of March 8, 1969 and the entire crew including a USMC bellyman were killed the next morning. ... I can't remember the bellyman, but the rest of the crew was damn good."
As noted by WO Roach, the burned-out wreckage was located on 12 Mar 69 and the bodies of the five men eventually were recovered. While the VHPA account does not identify the USMC bellyman, only one Marine was killed in action as a result of a helicopter shootdown on 09 March 1969:
PFC Richard Dale Shields, H Company, 3rd Recon Bn.
---
With all respect
Jim Schueckler, former CW2, US Army
Ken Davis, Commander, United States Navy (Ret)
Channing Prothro, former CAP Marine
Last updated 08/10/2009