Wayne Harry Ott
Airman
VF-74, CVW-17, USS FORRESTAL
United States Navy
06 October 1945 - 29 July 1967
Philadelphia, PA
Panel 24E Line 038
The database page for Wayne Harry Ott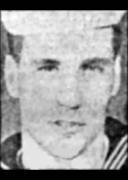 The photo and following article is taken from The Philadelphia Daily News, special supplement entitled 'SIX HUNDRED AND THIRTY,' October 26, 1987.
The 21-year-old Navy airman, assigned to the USS Forrestal in the Gulf of Tonkin off the coast of Viet Nam, died July 29, 1967, as the result of a fire and explosions aboard the giant aircraft carrier that took 10 (sic) lives. The accident also claimed the life of William J. Shields, another Philadelphia veteran. Ott, following in a brother's footsteps, had enlisted in the Navy in April 1966 after attending Dobbins Vocational High School and working as a printer's apprentice at Chilton Co., 56th and Chestnut streets. Survivors included his father and two brothers.
From a native Philadelphian and Marine,
Jim McIlhenney
christianamacks@comcast.net
The Incident
On 29 July 1967 the USS FORRESTAL was conducting combat operations off the coast of North Vietnam in the Gulf of Tonkin. The ship was preparing to launch an ALPHA strike when a major fire broke out among the crowded aircraft on her deck, resulting in a series of 500 and 1000 pound bomb explosions. Thirteen hours later, the fires were extinguished - and 135 men were dead or dying, with hundreds more injured.
Airman Wayne H. Ott was one of the 135.
Visit The Virtual Wall's
USS FORRESTAL


Memorial Page
---
With all respect
Jim Schueckler, former CW2, US Army
Ken Davis, Commander, United States Navy (Ret)
Channing Prothro, former CAP Marine
Last updated 08/10/2009