David George Ouellet
Seaman
PBR-124, RIVDIV 53, TF 116, USNAVFORV
United States Navy
13 June 1944 - 06 March 1967
Wellesley, Massachusetts
Panel 16E Line 030
The database page for David George Ouellet
06 Dec 2006

Seaman Ouellet, I never knew you, but while stationed in Great Lakes I lived in the barracks named after you. On several occasions I had the honor of standing watch at ET School Building 520. In that area was a picture of you and the citation from your Medal Of Honor. Every time I stood watch there I would read that and wonder just what type of person you were. You must have been a hero among heros to do what you did. I salute you now as I did then. You will never be forgotten.

From a fellow sailor,
Dave
E-mail address is not available.
A Note from The Virtual Wall
The incident in which Seaman David G. Ouellett was killed occurred on the My Tho River, 18 miles west of the city of My Tho. It is described in the Citation for his Medal of Honor:
The President of the United States
in the name of the Congress of the United States takes pride in presenting the
MEDAL OF HONOR
to
DAVID GEORGE OUELLET
Seaman
United States Navy

for service as set forth in the following
CITATION:
For conspicuous gallantry and intrepidity at the risk of his life above and beyond the call of duty while serving with River Section 532, in combat against the enemy in the Republic of Vietnam. As the forward machine gunner on River Patrol Boat (PBR) 124, which was on patrol on the Mekong River during the early evening hours of 6 March 1967, Seaman Ouellet observed suspicious activity near the river bank, alerted his Boat Captain, and recommended movement of the boat to the area to investigate. While the PBR was making a high-speed run along the river bank, Seaman Ouellet spotted an incoming enemy grenade falling toward the boat. He immediately left the protected position of his gun mount and ran aft for the full length of the speeding boat, shouting to his fellow crew members to take cover. Observing the Boat Captain standing unprotected on the boat, Seaman Ouellet bounded onto the engine compartment cover, and pushed the Boat Captain down to safety. In the split second that followed the grenade's landing, and in the face of certain death, Seaman Ouellet fearlessly placed himself between the deadly missile and his shipmates, courageously absorbing most of the blast fragments with his own body in order to protect his shipmates from injury and death. His extraordinary heroism and his selfless and courageous actions on behalf of his comrades at the expense of his own life were in the finest tradition of the United States Naval Service.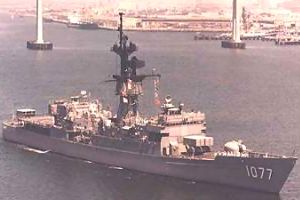 USS OUELLET, the 26th KNOX-class frigate, was commissioned on December 12, 1970 and served until decommissioned on August 6, 1993. Stricken from the Navy list on January 11, 1995, the OUELLET was transfered to the Royal Navy of Thailand on November 27, 1996, and was recommissioned as HTMS PHUTTALOETLA NAPHALAI.
---
With all respect
Jim Schueckler, former CW2, US Army
Ken Davis, Commander, United States Navy (Ret)
Memorial first published on 06 Dec 2006
Last updated 08/10/2009