01 Sep 2004

Gary Don Pagan was quite an athlete. He was born in Big Spring, Texas, but was raised at Garden City, Texas, a small agricultural and oilfield town east of Midland, Texas. While in high school at Garden City, he was all around. He was all-district in football, basketball and track. His football team at Garden City was not defeated in district his senior year. He was a class favorite and held student council offices. His family moved to Ozona, Texas during his senior year and after football at Garden City, he joined them. He was not able to participate in basketball his senior year, because of the residency rule, but he was able to be a member of the track team at Ozona High School. Although not there very long, he was voted as a captain and he was instrumental in the success of the Ozona Track Team in 1965. He qualified for the State Meet and he placed second in the shot put, 1/2 inch behind the state champion.

Gary was drafted into the Army and was a Currahee with the 3/506th. Prior to going to Vietnam, he had been a drill sergeant at Fort Benning. He was killed by small arms fire five weeks before he was due to return home. He was the only Crockett, County, Texas casualty of the Vietnam War. He is remembered by the communities of Garden City, Texas; Ozona, Texas; by the Tom Green County Vietnam Memorial in San Angelo, Texas and by the Permian Basin Vietnam Veteran's Memorial in Midland, Texas.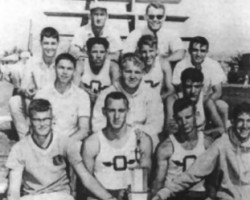 Gary Don Pagan with 1965 Championship Track team.


---

04 Feb 2007

I located Gary's final resting place in Ozona, Texas. His headstone shows that in addition to the awards shown, he also was the recipient of the Silver Star. His parents are now deceased.

From a PBVVM representative,
Billy M. Brown
4015 Melody Lane, Odessa, Texas
bmbrown@grandecom.net