Ronald James Paniccia
Corporal
A CO, 5TH BN, 60TH INFANTRY, 9 INF DIV
Army of the United States
07 April 1949 - 22 November 1968
Rochester, New York
Panel 38W Line 037
The database page for Ronald James Paniccia
21 Nov 2003

When I arrived "in country" we were part of 1st Battalion, 16th Infantry, 1st Infantry Division, at Lai Khe. That was August 1968 and Ron was already a seasoned, highly motivated young warrior. After we were transferred as a Battalion to the 5th/60th 9th Infantry Division in Rach Kien, Ron's role became even more important to the success of our missions. As Ron's Platoon Sergeant, I knew without doubt that the safety and well being of his fellow "Nam Brothers" was foremost in his mind. Ron's role as our beloved pointman was one of the most dangerous assignments we had and yet he accepted that role with tremendous pride. I learned to trust Ron's judgement on many situations we were faced with. His positive attitude and good team spirit helped us become one of America's finest fighting forces in Vietnam. I will never forget Ronnie's heroic actions that tragic November 22, 1968 day. He placed himself in harm's way to save his fellow Nam Brothers. The entire Platoon wept as we loaded Ron on the helicopter, including this old tough Platoon Sergeant. Now 35 years later this old ex-Platoon Sergeant still grieves and gets teary-eyed when he talks about his beloved pointman. We love you, Ronnie, and just want to thank you once again for sharing part of your life with us. We remain Vietnam Brothers Forever.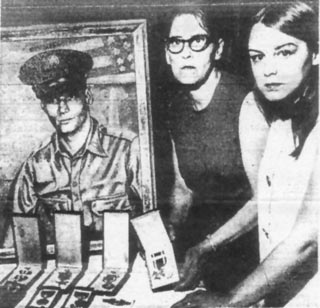 Mrs. Ruth Woods displays medals awarded her son, Ronald,
who was killed in Vietnam. His sister, Sandra, is at right.
Portrait of Ronald is in background.
Photo was scanned from contemporary newspaper report.
Barney Tharp
3240 Sam Browning Rd, Lebanon, Kentucky
tharpbj@kyol.net
A Note from The Virtual Wall Ronald J. Paniccia is buried in the Holy Sepulchre Cemetery, Rochester, New York.
The point-of-contact for this memorial is
one who served proudly with Ron in Vietnam,
Barney Tharp
3240 Sam Browning Rd, Lebanon, Kentucky
tharpbj@kyol.net

---
With all respect
Jim Schueckler, former CW2, US Army
Ken Davis, Commander, United States Navy (Ret)
Memorial first published on 21 Nov 2003
Last updated 12/15/2012