17 Jun 2001
NEVER LET YOU GO AGAIN
You adored me that's for sure,
Of that, I am secure.
A love so innocent and pure,
I could see it in your eyes,
Although I didn't realize,
Until long after your demise.
Now what I wouldn't give,
For just another chance,
To hold your face, gently, in my hands,
And tell you that "I understand."
To say the things I should have said,
To you my darling friend,
"There never was another,
Who would ever take your place,
Because they never cherished me,
With such finesse and grace."
We were doomed from the start,
We never had a chance.
Because the world is cruel,
To people like me and you.
They mistook benevolence for weakness.
They didn't learn the truth,
That strength,
Is really meekness.
Oh, Satan is so ruthless!
But we both loved our GOD,
So we can rest assured.
That he will call you from the grave,
And send you home to me again.
There's not a day that goes by,
My thoughts are not on you.
However I know I have to wait,
For that glorious day,
When we will meet again.
So, sleep in peace my darling man,
Knowing that I care.
And I will never let you go,
"My childhood friend."
The way I did before...


---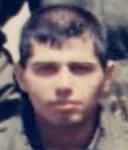 This is how I remember you best,
Love and miss you,
Sandi Silva
sandisand_93257@yahoo.com