James Kelly Patterson
Lieutenant Commander
VA-35, CVW-9, USS ENTERPRISE
United States Navy
14 July 1940 - 16 April 1974
Long Beach, California
Panel 20E Line 048
The database page for James Kelly Patterson
27 Apr 2005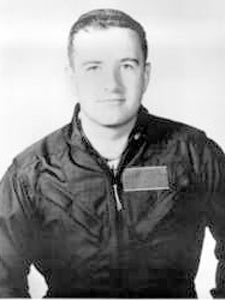 The U.S. Naval Academy Class of 1963 honors James Patterson and the other twelve fallen classmates on the Wall at its website . Please visit "Last Call".
From a friend and classmate at USNA,
Stephen Coester
USNA63 Webmaster
scoester@cfl.rr.com

The Secretary of the Navy
takes pride in presenting the
DISTINGUISHED FLYING CROSS
to
JAMES KELLY PATTERSON
Lieutenant Commander
United States Navy

for service as set forth in the following
CITATION:
For heroism and extraordinary achievement in aerial flight on 10 April 1967 as a Naval Flight Officer serving with Attack Squadron THIRTY-FIVE, embarked in USS ENTERPRISE (CVAN-65), during aerial combat operations in Southeast Asia, Lieutenant Commander (then Lieutenant) Patterson flew as leading bombardier/navigator on a pre-dawn air strike against a vital and heavily defended steel mill in the heart of North Vietnam. By navigating his aircraft at dangerously low altitude in instrument flight conditions, over mountainous terrain, he successfully evaded enemy defenses until within six miles of the target. Disregarding four surface-to-air missiles fired at his aircraft and numerous antiaircraft-artillery shells bursting around and ahead of him, he maintained steady radar tracking of the target until bomb release, ensuring an optimum bombing solution. Because of his superb navigational and radar-bombing skill, his bombs found their mark and inflicted heavy damage upon the target. Lieutenant Commander Patterson's performance contributed materially to the disruption of enemy war materials production and was in keeping with the highest traditions of the United States Naval Service.
10 Mar 2006

Kelly and I are classmates from the Naval Academy and we were in the first class that was allowed to go into Naval Flight Officer training direct from the Academy. I recall that there were six of us in that first group. Two of them are on this Memorial Wall.

Kelly and I were both on the USS ENTERPRISE for the WestPac cruise of 1966-67. We spent many an hour together trying to find a rationale for what and why LBJ was letting the politicans run the war. We could take pictures of the Surface-to-Air Missile Assembly site outside Hanoi, but it couldn't be bombed as they had Russian technicians there. The bicycle assembly plant two blocks down the street was OK to bomb. Kelly and I were both extemely frustrated with these restrictions.

I was in the same strike group the day Kelly was shot down. I am convinced that Kelly was captured and taken to Russia for interrogation. I am extemely proud that Kelly's brother Luck has kept the candle burning and has made several trips to North Vietnam and Russia following leads. I am proud that Kelly's classmates have had a part in financing these trips. I miss him and have his bracelet staring at me as I type this.

From a classmate, shipmate, and friend,
Peter Carrothers
usna1963@aol.com


See http://prisoner-of-war.com for information regarding Kelly.
13 Jul 2006

I still remember, and always will.
Schenk WL Jr PR3 VA-35

From
William L Schenk Jr.
E-mail address is not available.
19 Sep 2007

I proudly wear "The Bracelet" to honor this hero. For 40 years I did not know his status. He did die for all of us, but he has not come home. I continue to hope that he will come home and that all the honor and praise deserved will be given him.

To all the service persons now engaged all over the world to keep America free, this young man knew the price but gave the ultimate sacrifice to keep me free. Let us never forget and be here when they come home with the honor and tribute they deserve.

God Bless America, God Bless the families and friends, God be with each one "until they come home".

God Bless America,
A friend forever who never knew you but cared anyway.

Nancy E. Davis
nancydatlanta@peoplepc.com

A Note from The Virtual Wall
On 19 May 1967, aircraft from the carriers ENTERPRISE, KITTY HAWK, and BON HOMME RICHARD conducted ALPHA strikes against three targets in the vicinity of Hanoi. The carriers' fighters were to provide combat air patrol support while their attack aircraft actually struck the targets. The strikes ran into a hornet's nest, with some of the heaviest surface-to-air and AAA fire of the war. By the time the raids were completed six aircraft had been downed - two from each carrier - and ten aircrew were on the ground:
USS BON HOMME RICHARD

F-8E 150930, VF-211, LCDR Kay Russell (POW)
F-8C 147021, VF-24, LTJG William J. Metzger (POW)



USS ENTERPRISE

F-4B 152264, VF-96, CDR Richard Rich (KIA) and LCDR William Stark (POW)
A-6A 152594, VA-35, LT Eugene McDaniel (POW) and LT James Patterson (POW - died)



USS KITTY HAWK

F-4B 153004, LTJG Joseph Plumb (POW) and LTJG Gareth Anderson (POW)
RA-5C 150826, LCDR James Griffin (POW - died) and LT Jack Walters (POW - died)
Six of the ten men ultimately were released in early 1973, and the remains of three others eventually were repatriated - Griffin and Walters in 1974, Rich in 2000 - but LCDR James Patterson has not come home.
---
With all respect
Jim Schueckler, former CW2, US Army
Ken Davis, Commander, United States Navy (Ret)
Memorial first published on 27 Apr 2005
Last updated 08/10/2009