James George Patzwall
Second Lieutenant
A CO, 1ST BN, 5TH CAV RGT, 1 CAV DIV
Army of the United States
04 December 1942 - 28 February 1966
Baltimore, MD
Panel 05E Line 090
The database page for James George Patzwall
Lieutenant Patzwall was a Baltimore native and a graduate of the University of Maryland. He was married to Mary Barbara Smith (now Mary Geiss) and the father of a son, John Thomas. John Thomas was six weeks old when his father shipped out for Viet Nam, and eight months old when he was killed in action by small arms fire on February 28, 1966.
He was also survived by his late parents [Robert and Rosarie Patzwall] and two brothers, Robert, Jr. and Brother John Patzwall, FSC.
Lt. Patzwall was the recipient of a Bronze Star Medal and the Purple Heart.
He was laid to rest in the family plot at Sacred Heart of Jesus Cemetery, German Hill Road, Baltimore County, Maryland on March 11, 1966.
May He Rest in Peace! He will never be forgotten.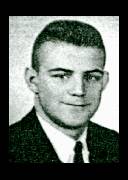 This photo courtesy of
VVA 451's Operation Remember
---
With all respect
Jim Schueckler, former CW2, US Army
Ken Davis, Commander, United States Navy (Ret)
Channing Prothro, former CAP Marine
Last updated 08/10/2009