23 May 2001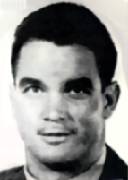 Following the 1972 Spring Offensive by the North Vietnamese, the United States began a concerted bombing campaign against North Vietnam and the NVA-occupied areas of Laos, Cambodia, and South Vietnam.
On October 12, 1972, Captain John R. Peacock, pilot, and 1Lt William M. Price, bombardier-navigator, were assigned a combat mission over North Vietnam. Their last known location was about 15 miles west of Dong Hoi in Quang Binh Province, North Vietnam. When the aircraft (A-6A BuNo 155700) failed to return to base, the two were listed as Missing in Action.
Peacock and Price were not acknowledged as POWs by the North Vietnamese, and they were not released with the American POWs in the spring of 1973. A presumptive finding of "Died while Missing" eventually was issued for both men. Their remains have not been repatriated (May 2001).
They are not forgotten.
Jennifer M. Rodrigues
rodriguesjm@hotmail.com