Carl Jerrold Peterson
Lieutenant Commander
CO, RIVER PATROL SQUADRON 57, TF 116, USNAVFORV
United States Navy
31 October 1936 - 02 April 1969
New York, New York
Panel 27W Line 001
The database page for Carl Jerrold Peterson
11 Jul 2004

LCDR Carl J. Peterson graduated from the U.S. Navy Academy. He served as Operations Officer aboard USS OGDEN (LPD-5) from 1967 until his transfer to the Riverine Forces in South Vietnam. He was killed 2 April 1969 when one of the boats which he commanded came under enemy attack. Carl was a highly respected officer and will be remembered by the officers and men of USS OGDEN as one who gave his best to every task.

From a shipmate.
lobo2va@aol.com

Notes from The Virtual Wall
As noted above, Carl Peterson was graduated from the Naval Academy with the Class of 1958 and served as a surface warfare officer. Ten years later he was serving with Task Force 116 in the Mekong Delta area of South Vietnam.
In late 1968 the Riverine Forces initiated Operation Giant Slingshot, an effort to reduce troop infiltration and resupply from Cambodia down the Vam Co River, including its two main branches, the Vam Co Dong (East) and the Vam Co Tay (West) rivers. At the time, LCDR Peterson was Commanding Officer, RIVPATRON 57, and was responsible for operations on the Vam Co Dong.
By early 1969 Giant Slingshot had become a major thorn in the NVA/VC's side and the enemy launched an aggressive program of broad-daylight ambushes against the Navy in an all out effort to drive the boats from the rivers. One such ambush involved a RIVPATRON 57 force patrolling south of Tra Cu, when an ASPB and its escort came under rocket and machinegun fire. LCDR Peterson, who was aboard the ASPB, was killed by a B-40 rocket hit on the boat.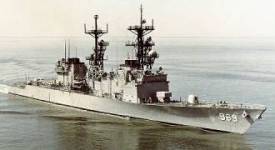 USS PETERSON (DD-969) was the seventh SPRUANCE-class destroyer built and was named after Lieutenant Commander Peterson. Commissioned on 09 Jul 1977, the destroyer served for 25 years before being decommissioned on 04 Oct 2002. She was stricken from the Navy List on 06 Nov 2002 and was sunk on 16 Feb 2004 as a target ship for the DD-21 Program Weapons Effects Test.
---
With all respect
Jim Schueckler, former CW2, US Army
Ken Davis, Commander, United States Navy (Ret)
Channing Prothro, former CAP Marine
Last updated 08/10/2009