Notes from The Virtual Wall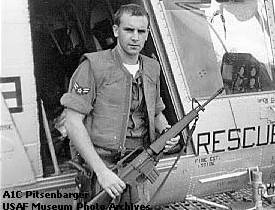 A full description of the circumstances of A1C William Pitsenbarger's death can be found here. In brief, while operating near Xa Cam My during Operation Abilene Company C, 2/16 Infantry, stumbled across the base camp of the Viet Cong D800 Battalion - and found themselves in a vicious firefight with a superior enemy force under a 150-foot-high jungle canopy. Pitsenbarger, a para-rescueman, volunteered to participate in efforts to extract wounded infantrymen. The helicopters couldn't land, but had to hover over the jungle canopy and lower a stretcher (a "Stokes litter") by cable through the canopy. Pitsenbarger again volunteered, this time to go down with the stretcher to help with the wounded.
As night approached, the helicopters were forced to withdraw, leaving Pitsenbarger behind. Pitsenbarger alternated between aiding the wounded, making sapling stretchers to carry them, collecting and distributing weapons and ammunition, and actively fighting alongside the infantrymen. He was wounded three times before ultimately being killed by enemy sniper fire.
The following morning, Army relief units broke through to the surrounded units, finding only 14 of the original 180 infantrymen alive and unwounded. The Army's reports of Pitsenbarger's heroism under fire were sufficient to convince the Air Force to grant the Air Force Cross to Pitsenbarger.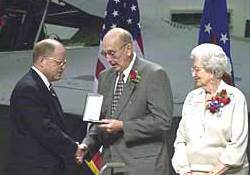 Over the years, additional eye-witness testimony became available, and the Air Force reopened Pitsenbarger's case with an eye toward upgrading his Air Force Cross to the Medal of Honor. The award was approved , and on 8 December 2000 the Secretary of the Air Force presented the Medal of Honor to his father, William Pitsenbarger, with Alice Pitsenbarger looking on.
William Pitsenbarger also received a posthumous promotion to Staff Sergeant.