Richard Sharon Pohl
Colonel
HHB, DIVISION ARTY, 101 ABN DIV
Army of the United States
15 December 1925 - 24 June 1968
Dayton, OH
Panel 55W Line 030
The database page for Richard Sharon Pohl
"He died so that others may be free."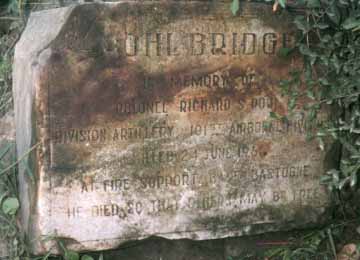 "POHL BRIDGE"
"In memory of
Colonel Richard S Pohl
Division Artillery 101st Airborne Div
Killed 24 June 1968
At Fire Support Base Bastogne
He Died So That Others May Be Free"
I took this photo of a commemorative stone that marked a bridge over the Perfume River.
Although I did not know him, I would love to get in touch with Colonel Pohl's family or his comrades who placed this memorial stone to send them a photo and tell them more about the stone.
Steven Boswell
swboswell@erols.com
A note from The Virtual Wall
Three men were killed, and three survived, in the crash of a UH-1D (tail number 66-16477) assigned to HHC 101st Aviation Battalion. The aircraft had just lifted off when it suffered an engine failure at approximately 100 feet. The pilot attempted to autorotate to a safe landing but impacted trees, crashed, and burned.
The six men aboard were
CPT R L Baker, pilot, HHC 101 Avn Bn (survived)
WO R J Kusterman, copilot, HHC 101 Avn Bn (survived)
SP4 L L Pfefferm, crew chief, HHC 101 Avn Bn (survived)
SP5 W E Bader, gunner, HHC 101 Avn Bn (died)
COL R S Pohl, HHB Div Arty, 101 Abn Div (died)
SMAJ L J Browning, HHB Div Arty, 101 Abn Div (died)
---
With all respect
Jim Schueckler, former CW2, US Army
Ken Davis, Commander, United States Navy (Ret)
Channing Prothro, former CAP Marine
Last updated 08/10/2009