Crashed While on Visual Reconnaisance Mission
From the 244th Unit History: Wednesday, 28 February, brought personal tragedy again to the 244th Aviation Company. Captain Steven J. Popkin, the unit's colorful mess officer, and his observer, Captain Joseph Clarence Doyle, IV Corp G2 Air, had crashed while on a visual reconnaissance mission in Kien Phong sector
Speculation within the company was that Captain Popkin experienced mechanical problems, had an inexperienced observer and rode the aircraft down trying to get the observer out. At least that is what the unit believed in order to justify his loss.
---
From the Congressional Record, June 18, 2007, Commemorating the 25th Anniversary of the Vietnam War, discussion centered on why some Vietnam Veterans still have not visited the Wall in Washington, D.C. Part of the testimony involved CPT Popkin: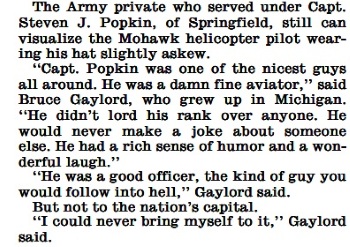 ---
At the time of his death, WO Steven J. Popkin was survived by his wife, Carolyn Meta (Petterson) Popkin and 3 sons, Aaron K., Joshua D., and David L. Popkin, Mohawk Street, Morristown, Tennessee. He was also survived by his mother, Gertrude (Smernoff) Popkin and father, Jacob Popkin of Porter Lake Drive, Springfield, Massachusetts. WO and Mrs. Carolyn Popkin are buried in the Knoxville National Cemetery, Knoxville, Tennessee.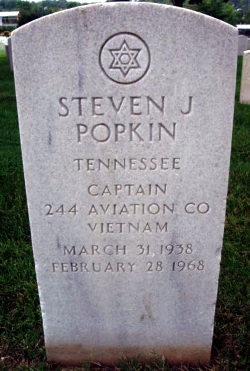 ---
- - The Virtual Wall, Octdober 30, 2014