Robert James Potts
Sergeant
404TH RR DET, 313TH ASA BN, 509TH ASA GRP, ARMY SEC AGENCY
Army of the United States
13 March 1948 - 21 February 1971
Baltimore, Maryland
Panel 05W Line 129
The database page for Robert James Potts
06 Aug 2005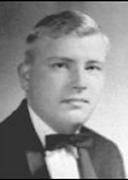 Bob,
We are preparing for our high school reunion, and just as we have done in the past, we are doing again by honoring those of you from our class who paid the ultimate sacrifice for our country in Vietnam . I think because we are at war again it will be the profound memorial that you deserve and never received. God Bless your mom and dad for giving you to our country.
A Note from The Virtual Wall
The Army Security Agency structure in Vietnam was responsible for monitoring enemy radio transmissions for intelligence and locational information. The ASA's units were designated "Radio Research" units in order to camoflage their true purpose.
On 21 Feb 1971, four members of the 404th Radio Research Detachment were killed by an "explosive device", a term once again becoming known to Americans. The men were
SP5 Carl H. Caccia, Detroit, MI
SGT Robert J. Potts, Baltimore, MD
SP5 Mitchell B. Smith, Tacoma, WA
SP5 Robert J. Thelen, Fowler, MI
Sergeant Potts was on his second tour of duty in Vietnam; he served with the 4th Infantry Division's 374th RR Company during his first tour in 1968-69. The photo at the top of this page was taken during that tour of duty.
---
With all respect
Jim Schueckler, former CW2, US Army
Ken Davis, Commander, United States Navy (Ret)
Last updated 08/10/2009