Robert Bruce Protto, Jr
Staff Sergeant
B CO, 1ST BN, 12TH INF RGT, 4 INF DIV
Army of the United States
13 December 1945 - 09 March 1969
Sunnyvale, California
Panel 30W Line 095
The database page for Robert Bruce Protto, Jr
03 Nov 1998
"You are the center of my universe."
"In loving memory from your wife and family who love and miss
you terribly, but you are in our hearts until we meet again."


---

21 Apr 2001

This page was requested by Bruce's wife,
Deborah Wiedemann.
She passed away in August, 1999,
finally able to be with Bruce again.

This page is now dedicated to the memory of both
Bruce and Debby.


---

30 Jul 2004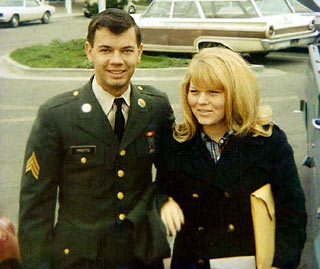 Bruce Protto and his wife Debby Wiedemann
This photo was taken on the last day my mother saw Bruce, at the Alameda Naval Air Station in California. My mother used to look at that photo quite a lot so I think it's appropriate as a memorial to both of them.
I'd like to be in touch with persons who knew Bruce or my Mom.
From his wife's daughter,
Cassandra
E-mail address is not available.
A Note from The Virtual Wall
Staff Sergeant Protto was one of seven members of B Company, 1/12th Infantry, killed in action on 09 March 1969:
SSG Jerry C. McDonald, Port Aransas, TX
SSG Robert B. Protto, Sunnyvale, CA
SGT Clarence P. Burleson, Fairfield, CA
SGT Thomas G. Turner, Bethesda, MD
SP4 Raymond L. Bethea, New York, NY
SP4 Edward J. Millison, Fernwood, PA
SP4 Clarence Nofford, Newark, NJ
---
With all respect
Jim Schueckler, former CW2, US Army
Ken Davis, Commander, United States Navy (Ret)
Memorial first published on 03 Nov 1998
Last updated 08/10/2009