Robert Joseph Pruden
Staff Sergeant
COMPANY G, 75TH INFANTRY, AMERICAL DIV
Army of the United States
09 September 1949 - 20 November 1969
St Paul, MN
Panel 16W Line 102
The database page for Robert Joseph Pruden
30 Dec 2003

He was my buddy when we were just boys. He was a good guy and a great friend. A Medal of Honor winner, you would never have guessed that he was just another guy.

The President of the United States
in the name of the Congress of the United States
takes pride in presenting the
MEDAL OF HONOR
posthumously to
ROBERT JOSEPH PRUDEN
Staff Sergeant
United States Army

for service as set forth in the following
CITATION:
For conspicuous gallantry and intrepidity in action at the risk of his life above and beyond the call of duty. SSG Pruden, Company G, distinguished himself while serving as a reconnaissance team leader during an ambush mission. The 6 man team was inserted by helicopter into enemy controlled territory to establish an ambush position and to obtain information concerning enemy movements. As the team moved into the preplanned area, SSG Pruden deployed his men into 2 groups on opposite sides of a well used trail. As the groups were establishing their defensive positions, 1 member of the team was trapped in the open by the heavy fire from an enemy squad. Realizing that the ambush postiion had been compromised, SSG Pruden directed his team to open fire on the enemy force. Immediately, the team came under heavy fire from a second enemy element. SSG Pruden, with full knowledge of the extreme danger involved, left his concealed position and, firing as he ran, advanced toward the enemy to draw the hostile fire. He was seriously wounded twice but continued his attack until he fell for a third time in front of the enemy postions. SSG Pruden's actions resulted in several enemy casualties and withdrawal of the remaining enemy force. Although grievously wounded, he directed his men into defensive postions and called for evacuation helicopters, which safely withdrew the members of the team. SSG Pruden's outstanding courage, selfless concern for the wefare of his men, and intrepidity in action at the cost of his life were in keeping with the highest traditions of the military service and reflect great credit upon himself, his Unit, and the United States Army.
A Note from The Virtual Wall
Robert Pruden went through the Non-Commissioned Officer Indoctrination Course at Harmony Church, Fort Benning, in Class 2-69, 72nd Company, graduating on 8 October 1968. He then completed Ranger training at Fort Benning and Dahlonega, Georgia, before reporting for duty with G/75th Infantry (Rangers).
He is buried in Fort Snelling National Cemetery, Minneapolis, Minnesota.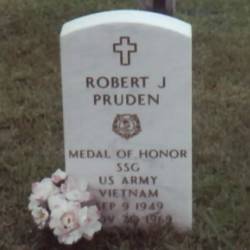 ---
With all respect
Jim Schueckler, former CW2, US Army
Ken Davis, Commander, United States Navy (Ret)
Channing Prothro, former CAP Marine
Last updated 08/10/2009