25 Dec 2004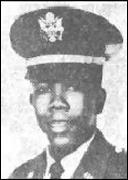 From the Arty OCS Class 30-67 photo.
Eric and I graduated from Artillery Officer Candidate Class 30-67, Ft Sill, Okla. We were friends, and in the same platoon. We both applied for helicopter pilot training. He was accepted, and I was not. Becoming a helicopter pilot was my primary military goal. I was crushed, but Eric sensed my disappointment, and he did his best to make it OK. I was assigned to Vietnam as an artillery forward oserver. Eric went to Rotary Wing Flight School at Fort Rucker, Alabama. We lost touch with each other til February, 1969. I was ending my tour, and returning to the world. I stopped at the Cam Ranh Bay O-Club, and sitting there at a table was a FNG pilot who looked very familiar. Eric was about to begin his tour, and mine was over. We reminisced about our days at Fort Sill, until I had to leave and catch my flight home. "Take care of yourself" was the last thing I said to him. I left with just a little envy, but I was glad to be leaving that awful place. Eric was killed one month later in Thua Thien Province, I Corps. His aircraft crashed and burned as a result of hostile fire.
"Some of God's greatest gifts are our unanswered prayers."
- Garth Brooks -
From a friend,
Ed Mihalacki
stclara2@wpa.net


Eric is third from left back row.