During the Vietnam War there was no overriding reason to keep close track of names of the men and women who died as a result of military service in the war zone. A decade after the withdrawal of US forces, the Vietnam Veterans Memorial was approved for construction. The service branches went back through their records to identify our dead by name.
Inevitably some men who should have been named on the "Wall" were not. Over the years additional names have been inscribed on the Wall - some were men who died after the war as a result of wounds received in the war or from disease or illness, and others were men whose names were overlooked in earlier years.
The Department of Defense approved having his name etched on the Wall during May 2016, along with 7 other names. His name was etched as close to the names as possible of those who died the same day where space was found to add his name. These are the 8 men who were added to the memorial this year:
---
PFC Rawn had been trained as a combat engineer and began his tour from Danang, Vietnam on 31 July, 1966, where he was first assigned to C Company, 3rd Engineer Battalion. He remained with them until 7 January 1967 when he was reassigned to HQ and Services Company, 3rd Battalion, 9th Marines for 3 weeks and the for another short tour with Company A, 5th Engineer Battalion on Okinawa. From the 16th of Feb until 4 March, he was back with H&S Company of the 3/9th and then finally with A Company until the 20th of March when he was evacuated for medical treatment.
PFC Rawn participated in many Operations in the 8 months he was in country: Operation MISSISSIPPI (23 Nov-8 Dec 66) with E Company, 3rd Engineer Battalion; Operation STERLING with 3/9th Marines (11-15 Dec); Operation SWANEE with 3/9th Marines(2-21 Aug); and Operation BIG PANTHER with 3/9th Marines (21-23 Dec); and 2 Counter Offensive Campaigns.
He fell ill 10 March 1967 and was medically evacuated from Vietnam on 20 March 1967. He died in the Army Hospital, Camp Kue, Okinawa on 24 April 1967. PFC Rawn had completed 2/3rd of his tour of Vietnam when he succumbed to an unknown illness.
PFC Lee Andrew Rawn was survived by his 20 year old wife, his mother Dolores Louise Caufield Rawn (1926- ), his father Jack Leo Rawn (1926-1978), four brothers, John D., Fred W., Thomas L. and Raymond R. Rawn; and three sisters, all married, Doreen G., Susan G., and Jacklyn E., all of Lake Worth.
Lee Andrew Rawn, along with his father Jack Leo Rawn, and many of his family members, are buried at Lake Worth Memory Gardens, Lake Worth, Palm Beach County, Florida.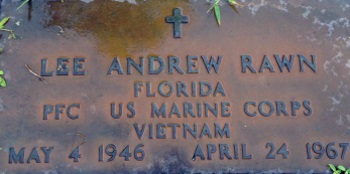 ---
- - The Virtual Wall, June 19, 2016