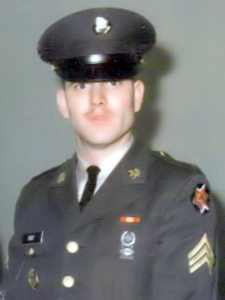 SSG DAVID LAYMAN RAY - 1967
According to his brother Brian Ray: David had 6 sisters and 3 brothers. Mom and Dad are both gone now, but where alive when David was killed. They were Ernest and Margaret Ray.
The brothers and sisters, in order of oldest to youngest are: Hellen, Lelia, Clifford ( Leo), Valorie (Jean), Ernest (Erine), Nada, David (Layman), Margaret (Diane), Brian ( Wesley), and Cathy. Since David's death, the family lost Nada and Lelia.
All four brothers served in the United States Army. Clifford (Korea), Erine (Vietnam), David (Vietnam), and Brian served in the Army for 6 years (71-77, Vietnam Era) and the Marine Corps (82-92, Desert Storm Era).
The family had 3 nephews who served in Vietnam in the Army. Allen Black, Gene Devine and James Devine, all sons of Hellen. Gene and David where in Vietnam at the same time so it was Gene who escorted David's body back home and returned to Vietnam to finish his tour.
The photo below, taken Christmas in 1967, shows, left to right, brothers Ernie and David (Layman), and nephews Gene Devine and Allen Black. It was just before David and Gene went to Vietnam. Ernie's shoulder patch shows he was with the 5th Infantry Division, and if he was with it in Vietnam, then it was the 1st Brigade that served under the 25th Infantry Division, same as David did but with the 4th Cavalry.
SSG David Layman Ray was laid to rest in Bethany Cemetery, Valley Station, Kentucky. He was survived by his wife, Brenda C Ray and one son, living in Louisville at the time. He was also survived by his parents, Mrs. and Mr. Ernest L Ray, Powell Avenue, Louisville. They are buried just to the left of David's grave in photo below.
SSG Ray's Orders for Bronze Star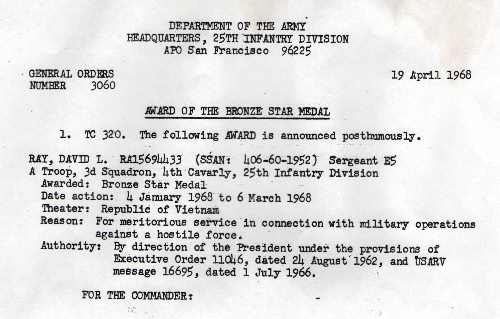 - - The Virtual Wall, July 2, 2014