28 Aug 2001
It is well known that US Coast Guard patrol boats and high endurance cutters operated offshore during the Vietnam War. The fact that 12 USCG pilots flew with the US Air Force during 1967-68 is less well known. These officers were on exchange duty and flew both helicopters and fixed wing aircraft.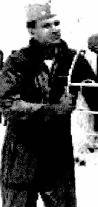 On 9 June 1968 a section of Marine A-4 Skyhawks were targeted against a NVA base area southwest of Hue. One of the Marines, 1st Lt Walter R. Schmidt (A-4E BuNo 151080), was hit while on a delivery run and ejected, landing in the middle of the NVA encampment area. He established contact via emergency radio, advising that he had a broken leg and that NVA troops were approaching. An Air Force HH-3E, Jolly Green 22, made three attempts to pick Schmidt up before being forced from the area due to low fuel. Following suppressive air strikes a second HH-3E (hull number 67-14710, piloted by USCG LT Jack C. Rittichier) made another attempt. As Jolly Green 23 approached Schmidt's position it was hit by enemy fire and burst into flame. Other aircrew watched as the HH-3E crashed and exploded in a small clearing; no-one escaped from the burning wreckage.
Two things became apparent during further attempts to pick up 1st Lt Schmidt -
the NVA troops were too well dug in to be forced away by air strikes, and
they had established a very effective "flak trap" around the downed Marine, effectively using him as bait for the SAR helicopters.
Schmidt had gone down at about 1020 local time; voice contact with him was lost at about 1415 local and was not regained. During the final pick-up attempt at about 1700 local, the HH-3's flight engineer spotted 1st Lt Schmidt lying prone on the ground, unmoving and partially covered by his parachute.

At this point the Danang SAR coordination center, acting on recommendations from the on-scene commander, halted further SAR efforts and directed the SAR forces to return to base. According to one report, ground forces inserted on 10 June failed to locate any sign of 1st Lt Schmidt.

Five men were lost, four dead and one missing in action:
From the 37th ARRS (HH-3E 67-14710):
From VMA-121 (A-4E BuNo 151080):

1st Lt Walter R. Schmidt, USMC (MIA)
The crewmen of Jolly Green 23 were immediately listed Killed in Action/Body Not Recovered. 1st Lt Schmidt was never reported as being in enemy hands, and it was concluded that he probably had been killed while resisting capture. The Secretary of the Navy approved a Presumptive Finding of Death for Schmidt on 24 Oct 1973.

Lieutenant Rittichier was the only Coast Guard pilot who died in Vietnam.


---

Thomas Pilsch's site contains considerable documentation regarding the SAR effort, including scanned copies of the after-action report and SAR coordinator logs. The "Check Six" site has a well-written narrative description of the events and a compilation of the aircraft and units involved in the SAR effort. Finally, the Jolly Green site contains a report that the wreckage of Jolly Green 23 has been located and crew gear recovered.


---
From one who remembers,
Stacey N Jones
fa-sc@earthlink.net