The son of Catherine and Paul H Rivest, he attended Lambert Lavoie Grammar School when growing up on Gratten Street in Chicopee, Massachusetts. He attended Cathedral High School in Springfield, graduating in 1964. He attended College at Franklin & Marshall College, Lancaster, Pennsylvania.
He entered the military on March 26, 1968 by enlisting. Based on that, he must have attended Officer Candidate School to obtain his commission and taken the necessary Infantry and Airborne training prior to arriving in Vietnam to begin his tour on October 11, 1969.
Upon arrival, he was assigned as a Platoon leader in Company B, 501st Infantry, 101st Airborne Division. It did not take long for Lt Rivest to perform the duties of his postion very well. On November 15, 1969, he was awarded the Bronze Star for Valor as evidenced by his orders below. During this contact, Lt. Rivest was awarded the Bronze Star, while the person killed during the contact was SP4 Allen Frederick Grotzke, from Portage, Wisconsin who was awarded a Silver Star for his participation.
At some point in the following months, he was reassigned from the 501st to become a Platoon Leader for the Reaction Company of the Special Operations Augmentation (SOA) (Command and Control Detachment Central (CCC) ), 5th Special Forces Group, 1st Special Forces. On 4 June, 1LT Rivest was killed in action against the enemy. Full details of events described below in orders.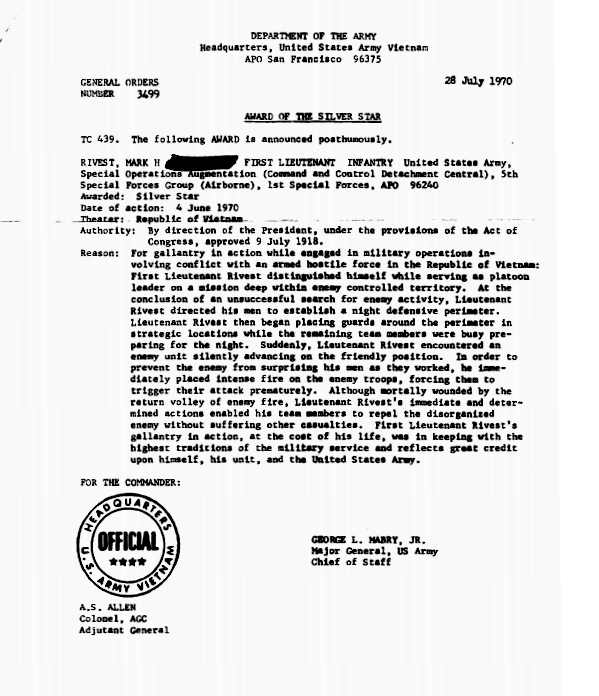 Killed earlier in the day in Laos, was SGT Harry Truman Wilson, a member of the Marine Medium Helicopter Squadron 262, Marine Air Group 16, 1st Marine Air Wing. He was crew chief in a Boeing Sea Knight Cargo Helicopter (CH-46D) over Xekong, Laos, when his aircraft crashed after receiving fire during the extraction of CCN Team, 7 kilometers east fo Ban Alan, Laos.
---
In addition to the medals shown above, 1LT Rivest was also eligible for the award of the Vietnam Civil Action Medal, 5th Special Forces Group, (Airborne), 1st Special Forces, for the period 1 January 1968 - 24 September 1970
---
He was survived at the time by his parents Catherine E. (Donovan) Rivest (1921 - 2002) and Paul H. Rivest, as well as his two brothers, Peter and Christopher and his sister Michelle. Lt Rivest is buried with his mother and grandparents in Saint Rose DeLima of Chicopee Cemetery in Chicopee, Massachusetts.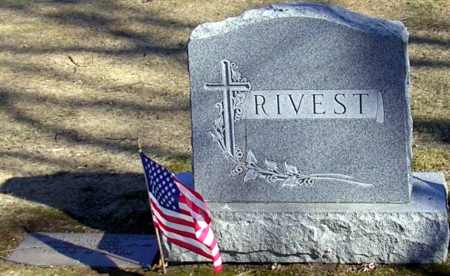 ---
Visit other memorial pages about Lieutenant Rivest at:
B Company, 2nd Battalion, 501st Infantry, 101st Airborne Division
Western Massachusetts Vietnam Veterans Memorial
---
- - The Virtual Wall, June 22, 2014