Note from The Virtual Wall
On 11 Apr 1966, C Company, 2/16th Infantry, was engaged and surrounded by a larger Viet Cong force in a heavily forested area about 35 miles east of Saigon. In the ensuing battle, C Company was destroyed as a fighting force - 34 dead, 72 seriously wounded, and only 28 still effective - but they held until relieved on 12 April.
Decorations for heroism during the action were awarded to many of the soldiers, including posthumous awards of the Medal of Honor to Sergeant Robinson, the Distinguished Service Cross to platoon leader 1LT George C. Steinberg, and the Air Force Cross to Air Force pararescueman A1C William H. Pitsenbarger who came into the battle with a medevac helicopter and stayed to fight.
The ferocity of the action and the bravery of the soldiers who fought it come through clearly in the text of Sergeant Robinson's Medal of Honor Citation:
SGT Robinson was laid to rest in Clarendon Hills Cemetery,
Darien Illinois. His mother also rests there.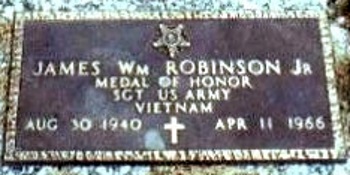 ---
- - The Virtual Wall, October 29, 2014