Carroll L Rodgers
Staff Sergeant
116TH AVN CO, 11TH CAB, 1 AVN BDE
Army of the United States
04 January 1941 - 28 November 1966
Natchitoches, LA
Panel 12E Line 127
The database page for Carroll L Rodgers
SSGT Carroll Lee Rodgers is seated inside the Huey.
Front (L-R) CPT Anderson, CWO Gibbs, and CWO Bell.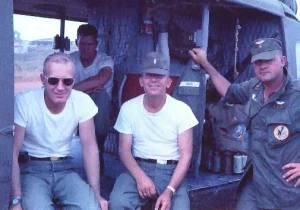 I will never forget you,
as so many have.
Four men of the 116th Aviation Company (later the 116th Assault Helicopter Company) died when their UH-1B (tail number 64-13951) was shot down while conducting Close Air Support for ground troops. The pilot radioed his wingman that he was going in. The Huey appeared to be in a normal autorotation but exploded on impact with the ground. The wingman landed to provide assistance but was forced from the area by enemy fire. The remains of the four men were recovered the next day.
1LT David Lee Siverly, pilot
WO1 Larry Floyd Castle, copilot
PFC Merced Herman Gonzales, crew chief
SSG Carroll L. Rodgers, gunner
The point-of-contact for this memorial is
his nephew,
David Rodgers
rodgersrn@aol.com
4 Aug 2002
---
With all respect
Jim Schueckler, former CW2, US Army
Ken Davis, Commander, United States Navy (Ret)
Channing Prothro, former CAP Marine
Last updated 08/05/2002