Notes from The Virtual Wall
While it seems clear that Major Charles E. Blair, pilot, and SGT Victor Romero, observer, were flying a visual recon mission in an O-1 aircraft on 19 March 1968 there seems to be some confusion regarding the details of their loss.
The POW Network bios for the two men give loss coordinates of 12-20N, 108-55E, 15 nautical miles west-northwest of Nha Trang. No source is given for this location, and neither bio carries any further information. Major Blair's bio says he was in "O1G # 112108", while Sgt Romero was in "O1G #4899". According to USAF aircraft procurement records, 51-4899 and 51-12108 were L-19s, redesignated in 1962 as O-1s.
The Task Force Omega site and Hobson's Vietnam Air Losses both say they departed from Nha Trang Air Base in Khanh Hoa Province, just north of Cam Ranh Bay, flying O-1E tail number 51-4899 - but after that the two sources part company.
TFO says they departed Nha Trang at 1255 and
"The last radio transmission with Maj. Blair and Sgt. Victor Romero came at 1340 hours. During that contact there was no indication of trouble with their Bird Dog or from enemy activity. Their last known location placed them over rugged, jungle-covered mountains just east of the junction where two rivers join together before flowing east to the coastline approximately 17 miles south-southwest of Duc My, the same distance west of Nha Trang Airbase Tac An, 19 miles west of the city of Nha Trang and 28 miles northwest of Cam Ranh Bay, Khanh Hoa Province, South Vietnam.

"When Walt 33 could not be raised on the radio for additional reconnaissance information, an intense visual and electronic search and rescue (SAR) efforts were initiated. These efforts were terminated at 1900 hours on 23 March when no trace of the aircraft or its crew could be found. At that time both Charles Blair and Victor Romero were listed Missing in Action."
TFO gives the same coordinates as the POW Network (12-20N, 108-55E, UTM BP740590) and a map showing that location. The location given is in Khanh Hoa Province.

Hobson says they were flying
" ... over a mountainous region about 65 miles west of Nha Trang. The aircraft ... wreckage was later found on the slopes of Yook [sic] Nam Rmay, a 4,731 foot nountain near Duc Xuyen."
Youk Nam Rmay Mountain (UTM coordinates AP857380) is in Tuyen Duc Province, southwest of Nha Trang.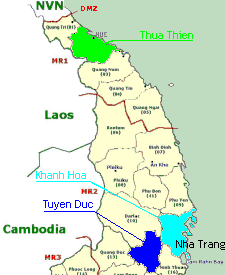 However, the casualty data base records for both men say they were lost in Thua Thien Province, far north of Nha Trang, a fact noted by the POW Network on Romero's bio but not on Blair's.
In any case, the Secretary of the Air Force eventually approved Presumptive Findings of Death for both men, Blair on 27 November 1973 and Romero on 09 October 1979. As relations with the Vietnamese government improved, the United States made repeated requests for information regarding MIA personnel. The Vietnamese claimed no knowledge of either Blair or Romero.
On 06 April 1988, the Vietnamese government returned 8 sets of human remains. The first of the 8 remains to be identified, on 28 June 1988, were those of Charles Blair.
As of 12 December 2006, Victor Romero has not been repatriated.