Stanley Dennis Ross
Specialist Four
C CO, 2ND BN, 3RD INF RGT, 199 INF BDE
Army of the United States
13 May 1949 - 20 October 1969
Mount Pleasant, Iowa
Panel 17W Line 098
The database page for Stanley Dennis Ross
7 Apr 2004

This is a poem that I wrote to honor my brother Stan who I miss as much today as I did when he left us. I hope it gives comfort to others out there who miss their sons, fathers, husbands, and brothers.
Purple Heart
Karen Ross Epp

It came in a nice box
that Purple Heart
Mother's hand
moved over it

A trade for the real thing
that no longer beats
in your young chest

Hand to hand
Bayonet to flesh
Bullet to breast
from where from whom

It had no face
Death that claimed you
perched in a rubber tree

We only knew
your heart we sent
traded for Purple
Cold
Metal

Packaged returned
cookies crumbled
never received
never opened

No way to touch you
through the sealed
clear-clean glass

Mother's tears
splash
Father's fists
clenched

October gray sky
ground so cold
receives your casket
so young so sweet
handsome you lie

You gave them your heart
they gave you a medal

Years gone by
still the pain is sharp
your face so clear

You were my brother
Our mother's dear.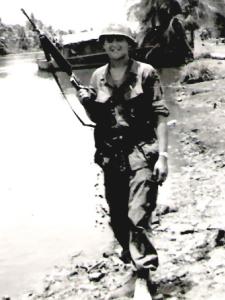 From his sister,
Karen Ross Epp
krepp@southwind.net

A Note from The Virtual Wall
C Company, 2/3rd Infantry, lost two men on 20 Oct 1969: SP4 Stanley D. Ross and PFC Benny C. Jackson of Wake Forest, NC.
The point-of-contact for this memorial is
his sister,
Karen Ross Epp
krepp@southwind.net
7 Apr 2004
---
With all respect
Jim Schueckler, former CW2, US Army
Ken Davis, Commander, United States Navy (Ret)
Last updated 05/29/2005