Ralph S Roussell, Jr
Warrant Officer
119 AHC, 52ND CAB, 1 AVN BDE
Army Of The United States
10 January 1950 - 05 June 1970
Bogalusa, LA
Panel 09W Line 016
The database page for Ralph S Roussell, Jr
"And they who for their country die
Shall fill an honored grave,
For glory lights the soldier's tomb,
And beauty weeps the brave."
Joseph Drake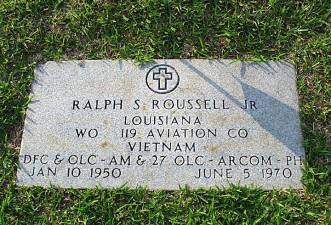 Photo courtesy of Damon Duke

Thanks, Ralph
---
Three men of the 119th Assault Helicopter Company were killed when their UH-1H HUEY (hull number 68-16354) was shot down:
WO1 Ralph S. Roussell, Jr., Aircraft Commander
WO1 Donald James Lundequam, Co-pilot
SP4 Scotty Ray Broadston, Crew chief
The 119th unit history states that

"Today was a sad day for the Gators as they have lost friends as well as fine aviators. Gator 354 was shot down by enemy gunners and along with her she took the lives of WO Rousell, WO Lundequam, SP4 Broadston, and four soldiers from the 1/14 Infantry. The only survivor of the crash was PFC Comes, who was floundering in the water after attempting to help WO Lundequam, who had already perished. PFC Comes was fished out by WO Oliver's (pilot of another HUEY) quick to react crew chief and gunner, SP4 Almon and SP4 Bottom respectively. SP4 Almon attempted to rescue an injured and badly burned victim who was under (Editor's note: next word doesn't make sense) cerntainable, but the effort was in vain as the victim drifted in the blazing wreckage. During his attempt, SP4 Almon lost his footing and went under almost on the verge of drowning. WO Kelly jumped out of the aircraft and retrieved SP Almon. Those injured were medevaced to An Khe and the area was secured."


---
With all respect
Jim Schueckler, former CW2, US Army
Ken Davis, Commander, United States Navy (Ret)