1LT John Ernest Russell, son of Josephine Alice Cowsert and Hugh Edward Russell, was a native of Edinburg Texas and attended Ray High School, and Del Mar College and an unknown University. According to the 1960 rosters from FA Officer Candidate School Association, he went into the Army and Fort Sill's (Oklahoma) Officer Candidate School, Class 37A-67 from April 23, 1967 to October 3, 1967 when he was commissioned as a 2nd Lieutenant in Field Artillery.
He was assigned to Fort Lee Virginia at some point after graduation and went to Vietnam in May 1968 where he eventually was assigned to C Battery, 7th Battalion, 11th Artillery and attached as a Forward Observer to C Company, 1st Battalion, 5th Infantry.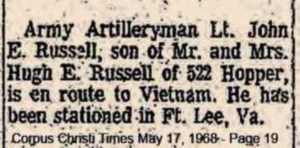 Shortly before 7 a.m. on 21 August 21 1968 C Company 1st Battalion, 5th Infantry departed Dau Tieng for a reconnaissance in force operation through the Ben Cui Rubber Plantation. C Company was to operate approximately 1 kilometer south of Highway 239, while the 1/5 Recon Platoon, the 3rd Brigade Combined Reconaisance & Intelligence (CRIP) Platoon, and one twin 40mm "Duster" were to sweep the highway itself, paralleling C Company's movement through the rubber plantation.

Just after 11 a.m., C Company began receiving sniper fire, followed by increasingly heavy automatic weapons and RPG fire. At 1140 the Recon Platoon sighted hundreds of enemy soldiers moving south to engage C Company. The Recon force engaged the enemy with .50 caliber machine guns and the Duster's 40mm cannons but were unable to break up the attack against C Company.

In the heavy fighting which ensued, C Company suffered 17 men killed in action and 21 wounded in action. Two artillerymen from 7th Battalion, 11th Artillery, supporting C Company were also killed, bringing the total to 19. SSG Marvin Rex Young received the Medal of Honor and SP4 Michael Robert Mangan the Distinguished Service Cross for their efforts in support of their comrades. Additional information regarding the fighting, which continued on 22 and 23 August, is available on the 5th Infantry site.

The 19 men who died during the fighting were
C Company, 1st Battalion, 5th Infantry



C Battery, 7th Battalion, 11th Artillery


---

The Corpus Christi Caller-Times, 20 December 1968 read in part:

Local War Victim Honored for Gallantry.

The Silver Star, the nation's third highest award for gallantry in action, has been awarded posthumously to Army 1st Lt. John E. Russell of Corpus Christi, who died from wounds he received in battle August 18. Russell was a Forward Observer for his company when it came under enemy attack, and his commanding officer was wounded. He took charge, organized the company for defense and recovery of wounded. When his radio operator was killed, Russell took over and called in artillery on the enemy.

"With complete disregard for his own safety he exposed himself to devastating enemy fire as he led his company on an assault into the hostile position. He was mortally wounded while leading his company on a successful advance on the hostile emplacement," the citation reads. Also awarded to him were the Bronze Star and the Purple Heart.

The medals will be presented to Russell's parents, Mr. and Mrs. Hugh E. Russell, 522 Hopper, at 2 p.m. Monday in the office of Col. Luther G. Jones Jr., commander of ARADMAC. Russell was with Battery C, 7th Battalion, 1th Artillery, 25th Infantry Division, when he was killed in Vietnam.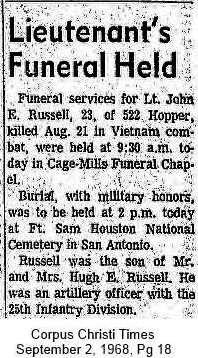 From a 4 June 1964 article in the Caller-Times, The Virtual Wall learned that 1LT Russell had an older brother. The article read: "Larry Rayner Russell, graduate of Ray High School and son of Mr. and Mrs. Hugh E. Russell, 3914 Naples, was graduated cum laude with a bachelor of arts degree from Rice University Saturday."
1Lt Russell was buried with full military honors at Fort Sam Houston National Cemetery, San Antonio, Texas. Thirteen days later, his parents were presented with several medals from the country of South Vietnam