3 Apr 2005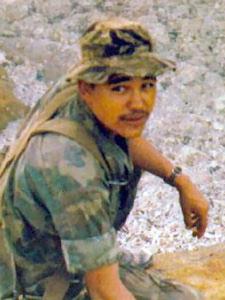 This memorial is written for my Brother Richard - I am Barbara, one of his older sisters...
My little Brother, every time I think of your being gone, I remember having you with me for your last Christmas and New Year's Eve ... the year ... 1970. I felt so proud to have a little brother that was so responsible, kind, loving, and considerate of others...
The day of your Funeral, I remember it so well, yet, I found it very hard to accept that you were gone ... I waited and I waited for your return ... every August, and nothing... I received letters, returned by the military - undeliverable. The gift you sent to me arrived long after you were gone...
I will always love you, my little brother, I will miss you always ... although I know that you are better off in the hands of our Loving God, I can honestly say that we are all selfish and would much rather have you here with us.
The memorial that Gene Padilla put online for you touched us all, and now one at a time, we are adding to it, our own feelings, our own thoughts... We were close, brother, and I truly miss having you to talk to ... but one day, you will be one of the chosen ones, and will live in the next coming ... with lots of love from your Sister Barbara I want to say that you were, are, and will always be the pride of our Family...
I love you Richard, and from heaven we all feel you watching out for us...
From his sister,
Barbara Saldana
prieta717@aol.com