Benny Kumiyama Sanchez
Corporal
W BTY, 2ND BN, 12TH MARINES, 3RD MARDIV
United States Marine Corps
11 November 1946 - 11 March 1968
Long Beach, CA
Panel 44E Line 017
The database page for Benny Kumiyama Sanchez
W Battery 2/12 Marines was attached to 1st Battalion, 3rd Marines.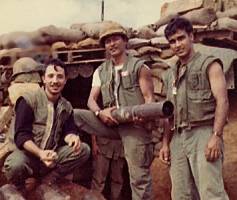 Benny was liked and respected by the men he served with. He had just returned from R&R in Hawaii, where for five days he got to see for the first time his daughter with his wife. He and I were very close friends ... we planned that when I came home he would pick me up at the airport so I could stay over a few days and meet his family. I took the photo above - on the left is my "bunker buddy" LCpl Spada, Benny is in the center, and Cpl Windom (Windham?) is on the right.

I spoke and held Benny's hand while waiting for him to be medevaced back to Con Thien. I had to plead for the helicopters to come in because of the danger imposed at night. Tom Pacileo, also wounded that day, was with Benny when he passed away at a medical center. Tom, Bobby "Hobo" Hancox (on the same gun), and I still keep in touch - and we still remember the events that took place that day.
---
With all respect
Jim Schueckler, former CW2, US Army
Ken Davis, Commander, United States Navy (Ret)
Channing Prothro, former CAP Marine
Last updated 08/10/2009