10 Jan 2005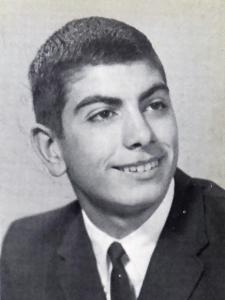 Charles "Charlie" Scarano and I grew up together in Cortland, New York. We were close friends who shared common experiences as schoolmates, Boy Scouts and paperboys. Charlie was a loyal friend. He was fun loving and full of energy and curiosity.
During junior high school, Charlie developed a compelling love of auto mechanics. We lived near the Formula One Grand Prix race track in Watkins Glen. Like clockwork each fall, Charlie would skip school for several days and make himself useful around the mechanic's area at Watkins Glen race track. He became friends with a number of Formula One race car mechanics and drivers. The stage was being set for his future involvement with the world of Formula One Grand Prix racing.
Upon graduation from high school (1964), Charlie's contact with the racing world resulted in the automotive industry legend, Carroll Shelby, offering him a job in California as a fabricator producing the famed 289 and 427 Shelby Cobra sports cars. When Shelby linked up with the Ford Motor Company to produce Shelby Mustangs, Charlie became disillusioned with the automotive mass production process. Instead, he pursued his love of Formula One racing and became employed by the Formula One racing team of the world famous Grand Prix driver Bruce McClaren (New Zealand). Charlie traveled all over the world with the McClaren team as it competed on the Formula One Grand Prix circuit.
Although a resident of England at the time he was drafted into the United States Army, Charlie answered his country's call and eventually lost his life in Vietnam (Province of Kontum). I remember Charlie as a gentle person who avoided conflict at all costs. Thus, the irony of losing his life while caught up in the most brutal of conflicts.
Charles Patrick Scarano ... a close friend ... at rest in peace.
Lawrence Morton
mortonl1@scranton.edu