Jimmie L Scott
Specialist Five
BRAVO CO, 1ST BN, 5TH INF RGT (MECH), 25 INF DIV
Army Of The United States
10 May 1940 - 01 June 1966
Montgomery, AL
Panel 07E Line 132
The database page for Jimmie L Scott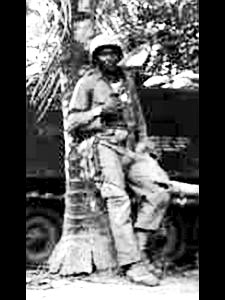 Sp/5 Jimmie Scott (right) was the B Company Senior Medic (he was WIA 13 Apr 66 trying to assist Frank D'Amico. Scotty died of wounds 1 Jun 66). This photo was taken 9 Apr 66 after a 35 minute fire fight in Fil Hol.




Visit John Dennison's
Medics on the Wall
memorial which lists 1,342 Army medics who died in Vietnam.


A memorial from his Fellow Bobcat,
Randy Kethcart
randy@bobcat.ws
10 May 2001
---
With all respect
Jim Schueckler, former CW2, US Army
Ken Davis, Commander, United States Navy (Ret)