Thomas Eugene Severson
Specialist Four
HHC, 1ST BN, 506TH INFANTRY, 101 ABN DIV
Army of the United States
27 December 1950 - 10 March 1970
New Richmond, Wisconsin
Panel 13W Line 107
The database page for Thomas Eugene Severson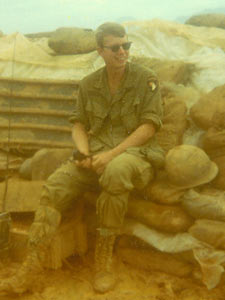 29 Sep 2006
Dearest Brother,
Your family is very proud of you. We are so happy to finally know the answers to what happened to you and your platoon on March 10, 1970.
Thank you for your sacrifice.
Not a day goes by when you are not missed. You have touched so many lives in your young life, especially mine. You are my hero.
Take care of Jennifer for us. Thinking of you always.
Your baby sister,
Lori


---

13 Feb 2007

The anniversary of your death is coming up and I think of you every day. I keep your photo next to my PC to remind me you are always with me in spirit. I know you are at peace and we will meet in Heaven, dear brother. I heard that your fiancee read the article I wrote in your hometown paper. You touched a lot of lives and you are remembered. Love you lots, your sister.


---

From his sister,
Lori J Severson
E-mail address is not available.
A Note from The Virtual Wall
On 10 March 1970 the 1st Battalion, 506th Infantry lost eight men during an attack on their night position about 17 kilometers west-southwest of Hue:
A Company:

SGT Billy J. Greavu, Canton, OH
SGT Lawrence H. Santinac, New Orleans, LA
SP4 Leonard Keller, Bayonne, NJ
SP4 Thomas E. Severson, New Richmond, WI, medic HQ Co w/ Alpha 1/506
PFC Alex V. Vardy, Cleveland, OH



C Company:

SP4 Byron M. Richard, New Orleans, LA
SP4 Paul A. Richards, San Antonio, TX



HQ Company:

PFC William R. Alamed, Southwick, MA
SP4 Severson, a medic, was formally assigned to HQ Company but was in the field with Alpha 1/506. PFC Alamed, a mortarman, very probably was with one of the rifle companies but The Virtual Wall doesn't know which one.
Visit John Dennison's
Medics on the Wall
memorial which honors the
Army Medics and Navy Corpsmen who died in Vietnam.
---
With all respect
Jim Schueckler, former CW2, US Army
Ken Davis, Commander, United States Navy (Ret)
Memorial first published on 29 Sep 2006
Last updated 08/10/2009