Joe Carl Shaw
Captain
C CO, 101ST AVN BN, 101 ABN DIV
Army of the United States
03 January 1948 - 21 August 1969
Portales, New Mexico
Panel 19W Line 090
The database page for Joe Carl Shaw
20 Feb 2006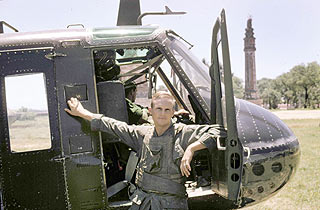 Joe and I were assigned as the preparation team when "C" Company moved from LZ Sally to Phu Bai. We worked closely together for several weeks before the actual move. After that I became a crew chief and Joe a pilot, but we remained friends. Joe never got a chance to fly as much as he would have liked, as he was kept busy with other jobs. So that was the reason he went on the Cobra ride that claimed his life.
Joe, I think about you frequently and wish that you could have made it back home.
Lonnie Heidtke
lrheidtke@yahoo.com

28 Apr 2006

My name is Rodolfo Isaac Orellana. I am currently a PFC in the Army National Guard and am also pursuing a commission through ROTC. I am a student at the University of Texas at Austin, this is where I attend ROTC classes. When I look for inspiration and encouragement for the decision I have made to pursue a career in the Army I could look at real heroes like Captain Shaw.

If it weren't for his important part in the overall fight against this nation's enemies, I would not have the opportunity to join such a strong force in the world's overall stability.

I want to take this chance to thank Captain Shaw for his service, it's men like him who give this nation a great future. It makes me proud to be an American when I read great stories of great men who have served this country. Thank You for all you have done for us.

From a fellow service member,
Rodolfo Isaac Orellana
rio4787@yahoo.com

A Note from The Virtual Wall
1LT Willard D. Richardson of Memphis, TN, had been a Huey pilot with the 101st Aviation Battalion but transitioned to the Cobra after he transferred to D Company, 158th AHB. While visiting his old unit he and Captain Shaw took a flight in AH-1G tail number 68-15059 so Captain Shaw could become familiar with the attack helicopter's capabilities.
The main rotor hub and blades departed the aircraft while it was at about 3,000 feet; it spun to earth, crashed, and burned. Both men were killed.
---
With all respect
Jim Schueckler, former CW2, US Army
Ken Davis, Commander, United States Navy (Ret)
Last updated 08/10/2009