Theodore James Shorack, Jr
Major
602ND FIGHTER SQUADRON (602ND SOS), 7TH AF
United States Air Force
06 March 1929 - 09 June 1966
Salem, Oregon
Panel 08E Line 028
The database page for Theodore James Shorack, Jr
8 Aug 2002

A Poem for Daddy
Be very, very careful
when you go to Viet Nam
for there are jets
and rockets
in Viet Nam.
If you don't succeed
I'll only have a mom.
So be very, very careful
when you go to Viet Nam.
by T. J. Shorack III, age 7 (1965)
From his son,
Theodore J. Shorack III
shorax@wgn.net

24 Oct 2002

On the day Ted disappeared I was flying a T-38 at Laughlin AFB. I wouldn't have been there if it weren't for Ted. He was my mentor and provided direction and incentive while I was in ROTC at Hobart College. He was also one of the funniest chaperones that we had at our EX fraternity parties. I can still picture him at parade rest, in the middle of the door while general havoc and noise surrounded him. I am sure he was watching over me on many occasion as I survived my USAF flying career with its many near misses. I can remember his amazement as Bill Butcher and I would take the ROTC Ford Cortina to Rochester to learn to fly, and miss football practice to the chagin of Coach Kelly. Thanks for everything, Ted, you are not forgotten.

Doug Constantine
dugsboat@earthlink.com

01 Sep 2006

My name is Jeanette L. Williams, maiden name Bird from Oxnard, California. I am the niece of Robert Ira Bush. I may have met you somewhere along my childhood when my Uncle Rob was stationed at the Oxnard Air Force Base as my twin sister and myself spent many, many weekends there with he and my Aunt Carol. I want to thank you for everything that you have done to enable the rest of us Americans to be able to live in freedom. I know that you and my Uncle are surely resting in peace up in heaven as I know there was a spot waiting for just the two of you.

From Robert Ira Bush's niece,
Jeanette L. Bird-Williams
jwilliams823@yahoo.com

16 Mar 2007

My name is David Shackelford. My parents were friends of Ted and Elva Shorack. They met somewhere along the way in their Air Force careers. After my Dad's active duty hitch was over he went to the reserves. I remember that Ted, "Captain Shorack" as we knew him then, would stop sometimes in Atlanta to visit with my parents when he was on his way to Eglin AFB. My older brother and I remember him fondly as he gave us our first airplane ride. He took us to the local airport and rented a small plane and took us around the pattern a few times. He might as well have hung the moon. I was only about 10 years old, now 52, but between the airplane ride by an Air Force Officer and the never ending supply of Teaberry chewing gum we thought we knew the coolest guy in the world. I will always remember him as a mountain of a man who was truly our hero. I thank him and his family for his ultimate sacrifice in his service to the United States so that we may all live in freedom.

David Shackelford
dns96se@aol.com

Notes from The Virtual Wall
The 602nd Fighter Squadron (Commando) flew the A-1 SKYRAIDER throughout the Vietnam war, from Bien Hoa and Pleiku in South Vietnam and from Udorn and Nakon Phanom in Thailand. During this time the 602nd's name changed, first to 602nd Air Commando Squadron and later to 602nd Special Operations Squadron - but their call signs FIREFLY and SANDY remained the same throughout.
SANDY was the call sign used while conducting Search and Rescue operations - and there are any number of Americans alive today who remember the skill and courage of the SANDY pilots.
Major Theodore J Shorack and Captain Robert Ira Bush, both of the 602nd Fighter Squadron, were lost on 09 Jun 1966 when their A-1s went down over North Vietnam. As of 29 May 2005 their remains have not been repatriated.


---

The A-1 Skyraider was a Navy-developed aircraft designed during World War II. Although it entered Fleet service too late to see service in WW2, it performed very well indeed in Korea and was still in service at the beginning of Vietnam. The Air Force recognized its utility as a ground attack aircraft and in the early 1960s borrowed a number of aircraft from the Navy. Between 1964 and 1973 nearly 1000 USAF pilots went through A-1 training at Eglin Air Force Base's Aux Field #9 (Hurlburt Field).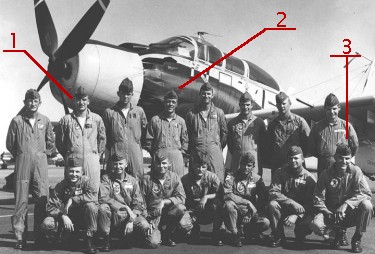 The photo above is for A-1 Class "Express 18" and is courtesy of the Skyraider Association. The three men marked with numbers were killed in action within two days of one another:
#1, Capt Robert I. Bush, 602nd Fighter Squadron, A-1E 52-133899, 09 Jun 1966
#2, Capt Robert L. Sandner, 1st ACS, A-1E 52-132449, 07 Jun 1966
#3, Capt Theodore J. Shorack, 602nd Fighter Squadron, A-1E 52-133869, 09 Jun 1966
---
With all respect
Jim Schueckler, former CW2, US Army
Ken Davis, Commander, United States Navy (Ret)
Memorial first published on 8 Aug 2002
Last updated 08/10/2009