25 Jul 1998

Once upon a time there was a war that was not a war.

Communism was threatening the small nation of Vietnam. The US decided to help. Men from every State in the Nation were drafted or volunteered. Fathers, Husbands, Brothers, Uncles, Loves, Nurses and women, went to Vietnam. Many did not return.

A Wall was built with the names of the dead, a cry went out to the nation - "Remember me when I'm gone". They fought for a war that was not a war. Many lives were touched. My first love died from hostile fire in Vietnam. I will always remember my first love.

He joined the Army in June 1967 and was a member of the 101st Airborne Division when he lost his young life.

This page is dedicated to Sonny and to all that were touched by a war that was not a war.

If anyone remembers him please write to me. Thank you,

Sue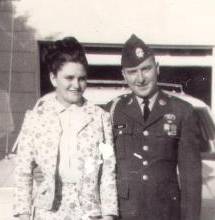 All in all they're just not names on a wall to me.


---

06 Apr 2006

Sonny, I miss you so, so much. 38 years have gone by. I will always have a place in my heart for you. I'll see you at the reunion.

Love always, Sue


---

03 Jul 2006

Happy earth birthday, Sonny. Today you would be 59.
Always a place in my heart. Love, Sue


---

06 Apr 2007

Sonny, I will always love you. Love, Sue


---

28 May 2007

Sonny, a flag was placed on your grave at Arlington Cemetery in remembrance of your final tribute. There have been 39 Memorial Days since your death. I will always love you, Sonny, and will see you again when the Lord says it's time. Soar with the eagles, Sonny, be at peace, know that you will always be loved and remembered.

Always and forever, I love you, Sonny ... Sue


---

03 Jul 2007

Sonny, 60 years ago you came into this world to loving parents, three sisters, and with eyes wide open. Your life was so short. I am so glad that I knew and loved you. I will always love you, Sonny. Always a place in my heart. Sue


---

From his fiance',
Sue Layne
5005 Stone Pine Drive, Montgomery, Alabama 36116-5150
lioness@mindspring.com


Visit my
memorial to Sonny