Matthew Edward Smith
Private First Class
E CO, 2ND BN, 4TH MARINES, 3RD MARDIV
United States Marine Corps
28 May 1950 - 11 April 1969
San Jose, California
Panel 27W Line 059
The database page for Matthew Edward Smith
11 Apr 2005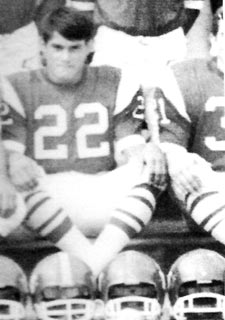 I admired Matt. He was friendly, smart and a great athlete. He cherished his friends and school. We spent all 4 years of High School in most of the same classes and seated alphabetically I was either behind or next to Matt. He used to apologize for his and his friends' "terribleness" because I was stuck in the middle of them all. He was always polite. He had a great sense of humor. I remember Driver Training with Matt, Steve and Mr C. WOW! We had so much fun. Matt was sensitive and wrote poetry. Only a few special people were blessed to share his beautiful words and thoughts. Matt had so much to live for - a wonderful future. He was taken from us much too soon. Matt designated a portion of his will to the Westmont High School Library. I have felt Matt's spirit and presence many times over the years and it has helped me through the tough times. We have honored Matt for 35 years and respect his service to our great country every day. He is a true HERO and a great American. We will never forget you...
Always Remembered, Never Forgotten, Semper Fi
"Hushy"
(Carol West Corless)
c.corless@sbcglobal.net

11 Apr 2005

I met Matt at the West's residence while on leave in November 1968. We both flew back to Camp Pendleton together. I was attending Artillery School and Matt was going through Staging Battalion. He had a great personality and warm sense of humor. I took a liking to Matt right away. I heard about Matt's death while in Staging Battalion. It hit me real hard, as I too was on my way to Vietnam. From that point on, I thought about him every day. While in Vietnam, he was my motivation for "everything" I did! I sure miss Matt. He is always remembered in my thoughts - every day! Matt, we visit you often at the cemetery with flowers and our Nation's Flag. God Bless you. Rest In Peace... Semper Fi, Marine.

Once A Marine, Always A Marine

From a friend and fellow Marine,
Daniel Corless
Los Gatos, Ca 95030
c.corless@sbcglobal.net

29 May 2006

Thank you Matt, and thanks to your family and friends for yours and theirs' sacrifice.

I have fond memories of high school football. One day, during a particularly tough game, I was tired, sweating, and sucking for breath. Matt was team captain and he told me: "Buckle up your chinstrap. Keep your head up."

Those words have come to me at the most trying moments of my life, reminding me to metaphorically "buckle up" and "keep my head up."

I promise to never forget.

From a friend and teammate,
Mike Avila
Kearns, Utah
E-mail address is not available.
A Note from The Virtual Wall
Pfc Matthew Smith was one of three men from Echo 2/4 killed in an action on 11 April 1969:
Pfc Richard E. Huff, Chester, CA
Pfc Matthew E. Smith, San Jose, CA
Pvt Richard D. Ausbrooks, Bowling Green, KY
---
With all respect
Jim Schueckler, former CW2, US Army
Ken Davis, Commander, United States Navy (Ret)
Memorial first published on 11 Apr 2005
Last updated 08/10/2009